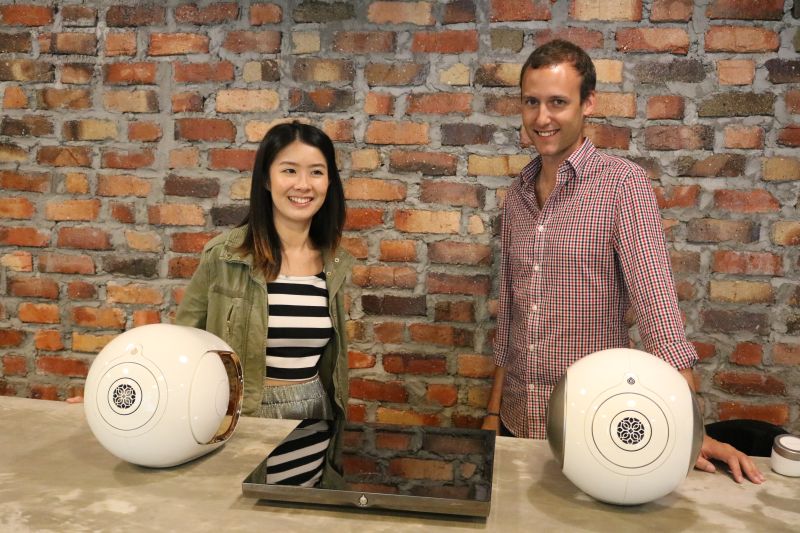 By Lam Seng Fatt
SAMed (Speaker Active Matching) speakers will sound the same regardless of the room they are placed in, as long as a Devialet amp is used.
The algorithms for the tuning or SAMing of a certain model of a brand of speakers will be stored in an SD card which can be used in any Devialet amp.
As explained in a previous post (please click http://av2day.com/2016/09/speaker-active-matching-the-devialet-way/) the SAMing of a speaker is done by measuring the cone movements of the bass unit with a laser beam.
Marketing manager of Devialet Asia Pte Ltd, Weiying Sim, and Devialet Product Training Junior Maxime Dumont were at my hifi shop in Jaya One, Petaling Jaya, on Monday to demo Devialet's SAM system and showcase Devialet's new Expert Pro range.
Maxime said the Devialet Export Pro features an entire hardware upgrade. "Older models can be upgraded, but the units must be sent back to the factory. In October, details and price of the hardware upgrade offer for owners of older Devialet models will be posted in our website," he said.
He added that everything has been changed in the new model from the power supply, which has new algorithms to the ADH (Analogue Digital Hybrid) core, the patented heart of Devialet amplifiers.
The algorithms for the Class A and Class D amplifier modules in the ADH core have been improved and they communicate with each other better resulting in a faster sound and improved transients. Components have been upgraded to reduce distortion.
As for SAM, Maxime said Devialet has now SAMed 800 speaker models and Devialet owners can go to its website and search for their model of speaker and download the algorithms into an SD card.
"Only a small percentage of speakers cannot be SAMed. Electrostatic and horn speakers cannot be SAMed," he said.
The Devialet SAM system measures the cone movement of bass units below 150Hz and it can measure cones made of any material from paper to ceramics as long as it has a piston movement.
When Maxime was here in September last year, several pairs of speakers were sent to my hifi shop to be SAMed. I was told that one pair, a small British monitor model, could not be SAMed and I asked Maxime why that speaker posed problems. "That speaker had a cone with too small excursions and the protection feature of the SAM software kicked in too soon," he said.
Later, Maxime held a demo of music played with and without SAM and the feature could be switched on and off on the fly using the futuristic-looking remote control. You can select how much of the SAM algorithm you want to use according to your liking. Maxime tried 50% and 100% and I preferred the lower amount on the demo system comprising a pair of Raidho speakers, Audionote CD player and Devialet amp with Ansuz cables.
I found that the difference in sound quality was more apparent when a track with vocalist and background singers was featured as the mids opened up with the SAM on. The bass also tightened up and lost the boominess when the SAM was on. When an instrumental track was played, the difference was not as apparent.
Later that evening, several audiophiles turned up from 6pm till 9pm for a demo session with refreshments served.