An Uplifting Performance
by Venoth Nair

At the highest end of the Hi-Fi spectrum, enthusiasts tend to look at too many technical and imaginative ways to try to further refine their systems. Considering the serious amount of dosh that's thrown at each individual component in the system, it only makes sense that owners would want to arm their setup with accessories to squeeze out every ounce of quality from the respective components. This is where companies like Furutech play their part by providing specialized accessories that are precision engineered to ensure that your equipment is able to perform at their absolute best without any harm or degradation in sound quality.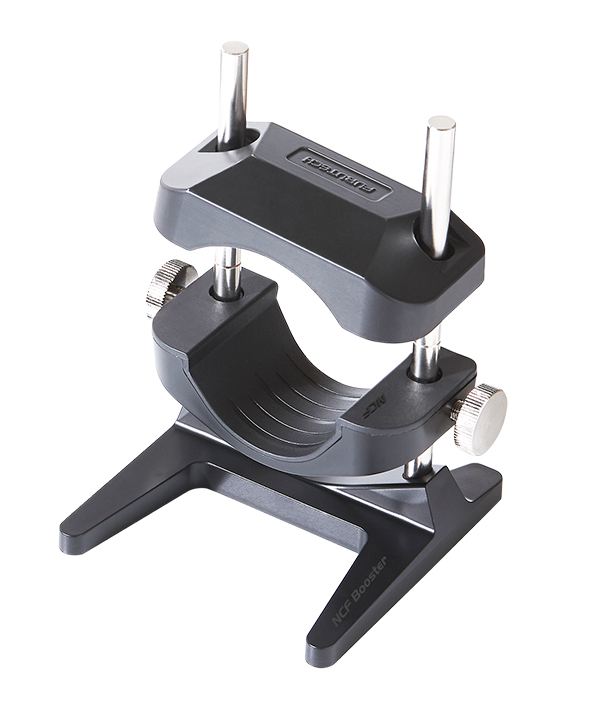 Alongside their tried and tested power leads and power supply accessories, Furutech also produces a product called the NCF Booster Cable Elevator or just NCF Booster for short. This product functions similarly to a cable support bracket that holds a cable in place through its length as it runs from one end to the other. But this purpose is not the only reason behind the NCF Booster as there is considerably more that has gone into in the design and engineering of this unique product.
NCF which is an abbreviation for Nano Crystal Formula is a material that has been developed by Furutech over a span of 30 years. This material is manufactured through the combination of crystals; Nano sized ceramic particles and carbon powder which resulted in material with a piezoelectric effect that has superior damping properties that translate to a cleaner purer audio signal. This NCF material is then applied to many of Furutech products to help deliver the best signal quality to your system.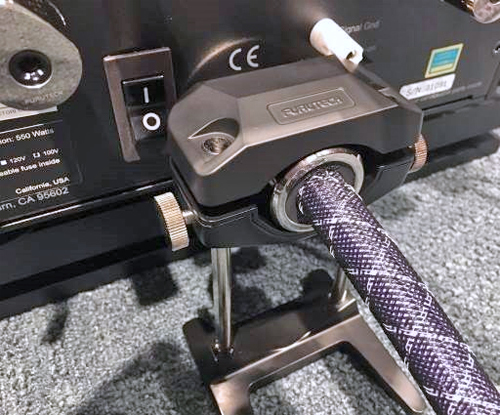 The moment you pull the NCF Booster out from its box it becomes apparent that this was not some randomly designed product that was just put together overnight. The individual parts that come together to make the bracket, is built like a solid battleship and has some serious weight to it. The base unit which holds up the entire product is made from audio grade ABS resin which is slip proof to keep it still while in use. The base is also shock absorbing to minimize vibrational disturbance which may be transferred to the supported cable. The support unit is also made from the same audio grade ABS resin, but this time also comes with a NCF nylon resin which helps to eliminate static discharge. The top clamp unit is a combination of a stainless-steel block with the audio grade NCF nylon resin.
The entire assembly feels luxurious to the touch and the amount of precision that has been applied to the engineering of this product is clearly visible. The NCF Booster also comes with polished stainless extension shafts which allow the bracket to be raised up to 140mm off the ground. In some cases where additional height is needed to support the cables, supplementary extension shafts can be added. The extension shafts screw into place perfectly and give the bracket the needed space to move higher up when necessary.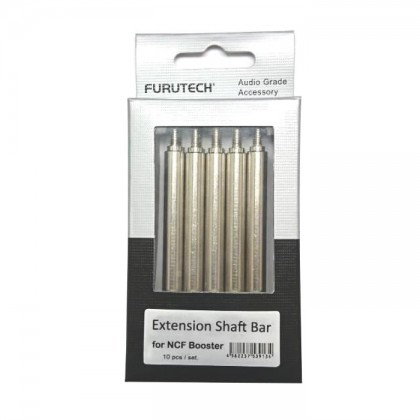 This product, which is perfect for supporting those extreme performance high end cables, which are usually of ridiculously thick dimensions, can also be used in another application. The Furutech NCF Booster can also be used at the connection ends of your high-quality cable as a bracket to help keep the power leads completely level. This eliminates the risk of heavy and large cables sagging or bending downwards which could lead to damage at both the power receptacle and cable connectors. This concept proves the same even at the side that's connected to the audio equipment. This system of support helps to extend the lifespan of the connection terminals and keeps it functioning at its best without stressing it unnaturally.
As far as audio performance goes, the Furutech NCF Booster works to keep the signal clean and claims to be able to deliver a performance that is crisp and clear with improvements in the imaging quality of the system. The NCF Booster also claims to be able to reduce distortion at the higher frequency spectrum. At RM 1990 a piece, the Furutech NCF Booster is a very serious high-end accessory but is one that deserve an audition if your system fits the bill and needs a little more tidying up to get it at its best.
The Furutech NCF Booster will be available for audition at the upcoming KL International AV Show 2018 at Sunway Putra Hotel, July 20 – 22.
For further details contact:
Creative AV Sdn Bhd.
Tel: 03 90810068 or
Alex Lim at 0123681288