Laser Precision
by Dick Tan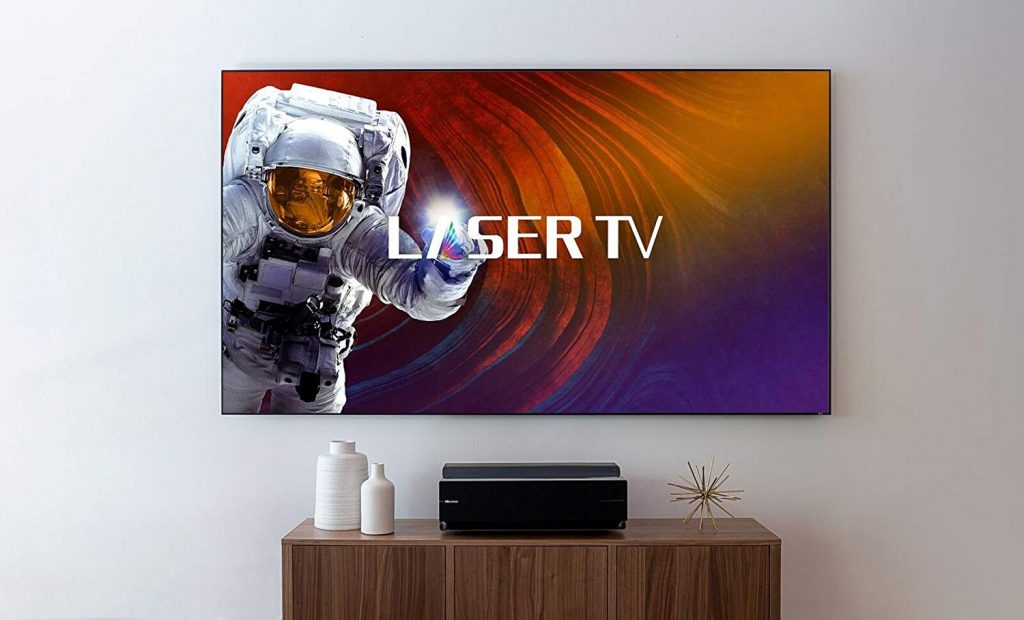 When is a TV not a TV? Well, when its large, approximately 100″ diagonal, uses a Laser light source, requires a separate screen and has a high powered DLP (Digital Light Projection) projector tucked inside its main body. It is known as a Laser TV.
That is what Hisense called their new high resolution, high brightness home visual display system. Identified as the Hisense model LN60D, this Laser TV comprises a main component body that houses an ultra short throw DLP projector as well as provide all the connecting sockets that would be required in a modern home theatre set-up.
Measuring 7.3″ x 23.7″ x 15.8″ the projector component itself also houses 4 Harmon/Kardon speakers that acts as main left and right and centre channel speakers.
A separate stand-alone active subwoofer with a 6" bass drive unit provides the deep end spectrum of the bass.
The final and third portion of this Laser TV is the screen, a dead give away that we are in fact looking at a very cleverly put together projection system that looks like a very large LCD TV. According to Hisense the Laser TV was conceived to bring a truly big picture to a home where space is a premium.
While the 100″ 16.9 aspect ratio screen may look big it requires only a suitable wall space to hang. The projector component in turn requires only an incredibly short throw distances of approximately 8 inches to fill the entire 100″ screen.
For the Laser TV, Hisense claims a very high light output in excess of 3,000 Lumens from its Laser light source which it says is rated to last up to 25,000 hours.
Reflecting its high-end status, the Laser TV is 4K rated and compatible with HDR programmes sources.
For further details contact:
Hoe Huat Electronics
Tel: 03 61437635
Ryan Kwan: 012 3135699