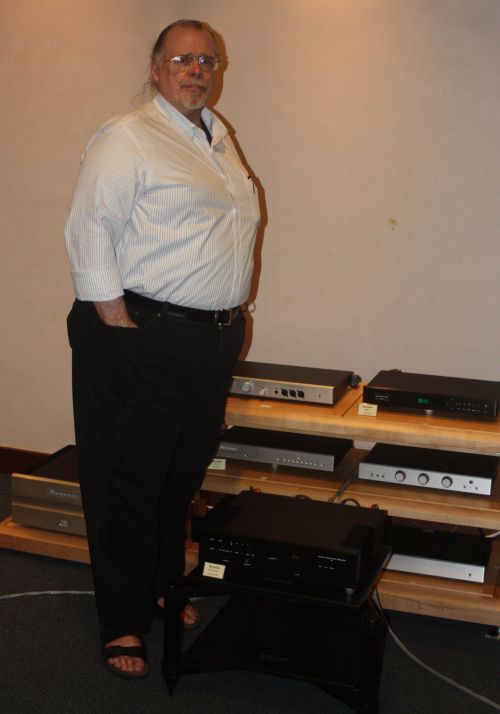 By Lam Seng Fatt
Just a while ago, James Tan of AV Designs, the Malaysian distributor of Bryston products, phoned me and told me some bad news – Brian Russell, president of Bryston, had passed away.
I googled and found a report in wifihifi.com which stated that in a blog posting, Brian's colleague James Tanner (Bryston's VP of sales and marketing) had written:
Saturday I lost a terrific friend and business associate.  
Brian Russell passed away in his sleep Saturday from a suspected heart attack.  He was 68. I worked with Brian for over 45 years and he was the most kind and caring individual I have ever known. He came across as a rough gruff bear of a guy but deep down he had the emotions of a teddy bear.
I will miss him a lot and I am still in disbelief over this.
james
Update 30/9/20: CEO of Bryston Ltd, Christopher Russell has released a media statement –
It is with utmost sadness and a broken heart that we pass along the news of the sudden passing of Brian W. Russell, our President and Overseas Distributor Liaison.  
Brian was well liked by all who knew him, his travels took him to all parts of the globe and he made friends and cohorts everywhere he went. Brian had worked at Bryston since the 1970s, and was easily one of the most valuable and hard-working members of the Bryston team. We will miss his hearty, jovial presence and his warm-hearted good spirits most deeply. Please make donations in lieu of flowers to the Heart and Stroke Foundation.
With greatest regret,
Christopher Russell
CEO, Bryston Ltd
Brian Russell was last in Kuala Lumpur in November 2012 when he visited the AV Designs' showroom which was at that time in Wisma Rohas Perkasa in Kuala Lumpur.
It was during that visit that I was first introduced to him and we adjourned for dinner later. Brian was a most entertaining man who made his presence felt not just due to his physique, but his jovial and pleasant nature.
I met him again during the Munich High End show in May 2017 at the Bryston booth and we chatted for a while about Bryston's new products including its turntable.
I have been using the Bryston 4B SST for many years as my reference power amplifier and I like it for its bass slam and neutral sound.
RIP Brian Russell. The hi-fi and AV worlds will surely miss you.