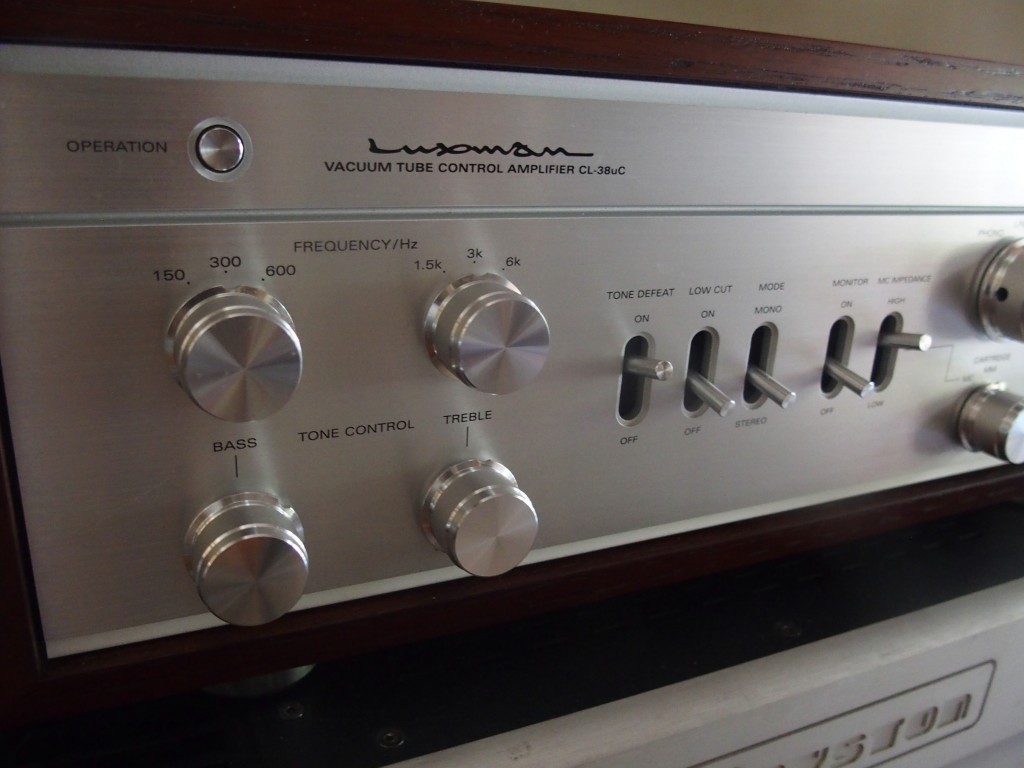 By Lam Seng Fatt
Luxman calls the CL-38uC a tube 'Control Amplifier' when most other people would call it a preamplifier.
It is designed to pair with the tube Luxman MQ-88uC power amplifier, but it does not mean it cannot be paired with any other power amplifier, tube or solid-state. I paired it with the resident Bryston 4B SST solid-state power amp successfully.
The  CL-38uC preamp, which is modeled on the CL-35 released in 1970, uses three ECC83S and five ECC82 tubes and step-up transformers for the phono section. My Benz Glider cartridge is medium output – 0.8mV – and I used the MC Impedance 'High' setting. The input impedances offered are: MM – 2.0mV/47kΩ,  MC high – 0.3mV/100Ω and MC low – 0.08mV/30Ω.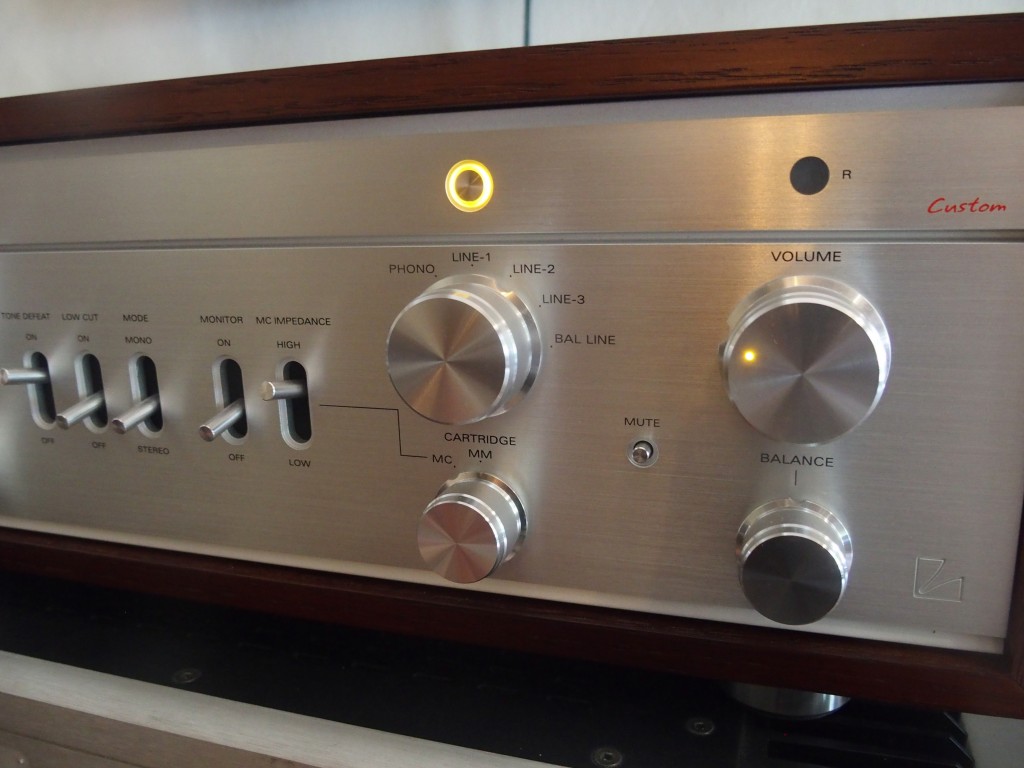 The preamp also has balanced inputs which have their own transformers. However, the preamp does not have balanced outputs.
I tried both the single-ended inputs with a pair of WyWires Platinum interconnects and the balanced inputs with a pair of Audience AU24 SX XLR cables. The balanced inputs sounded louder, more dynamic, lively and clearer with a slightly wider soundstage. If you own this preamp, I would recommend using the balanced inputs from the start.
I started off listening to the CL-38uC preamp with music from CDs via the CEC TL5100Z belt-drive CD player and Wyred4Sound DAC2.
The preamp has a very wide and quite deep soundstage, a lively upper-bass and slightly warm tone. The lively upper-bass was reminiscent of the Luxman LX-380 valve integrated amplifier (See Luxman LX-380 valve integrated amplifier: Verve and versatility) and snare drums popped out from the mix. The large soundstage seems to be a Luxman specialty.
I listened with the 'Low Cut' filter off and the 'Tone Defeat' on. The preamp has tone controls for bass and treble with three turnover frequencies each. It sounded better with the tone controls bypassed.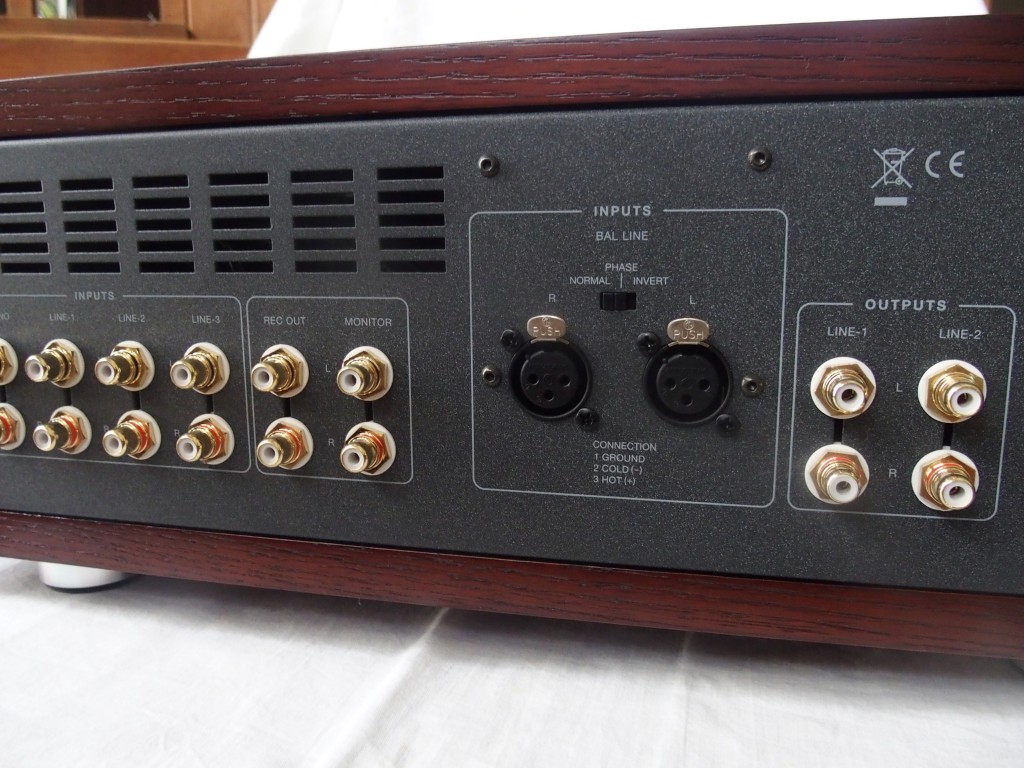 I just obtained a vinyl copy of A Meeting By The River (Water Lily Acoustics) and played it several times to test the phono section. I found that the bass was a bit fat and boomy compared with the Aime solid-state phono preamp which I use as my reference. This could be due to an impedance mismatch since the built-in phono input is limited only to only two settings for MC cartridges – 100 Ohms and 30 Ohms. So you will have to choose your MC cartridge with care.
If you want more flexibility and features in the phono section, you will have to go for the new Luxman tube flagship preamp, the CL-1000 Control Amplifier, which costs many times more.
Like the Luxman LX-380 integrated amp, this preamp comes with a wooden case which gives it a really cool retro look.
In terms of sonic performance, there is nothing much to complain about, but there is one very vital feature missing – a jack for headphones. I enjoyed listening to my headphones when reviewing the LX-380 and would have loved to have been able to do so with the CL-38uC preamp.
From the Luxman website: "The CL-38uC uses SRPP (Shunt Regulated Push Pull) circuitry for all stages to achieve the highest sound quality possible.
"The CL-38uC's SRPP circuitry, used for the phono equalizer section, tone control section and amp section, ensures a flat frequency response and has other advantages, such as a low output impedance (300 ohm), low distortion and extended vacuum tube life."
The Luxman CL-38uC tube preamp costs RM17,750 and is availabe at CMY Audio & Visual.