By Venoth Nair
The Lexicon name is one that was synonymous with cutting edge technology and high-end engineering that's focused on delivering premium performance and functionality with hardly a thought on cost. Ever since its acquisition by the Harman Group, the brand has taken a back seat in the world of AV until recently of course with the introduction of 3 new components designed to satisfy the mid to high-end tier home theater enthusiast.
The Lexicon RV-6 represents the entry point into the trinity of offerings with the RV-9 above it and the range topping MC-10 which is a pure cinema processor unlike the two RV's which are receivers.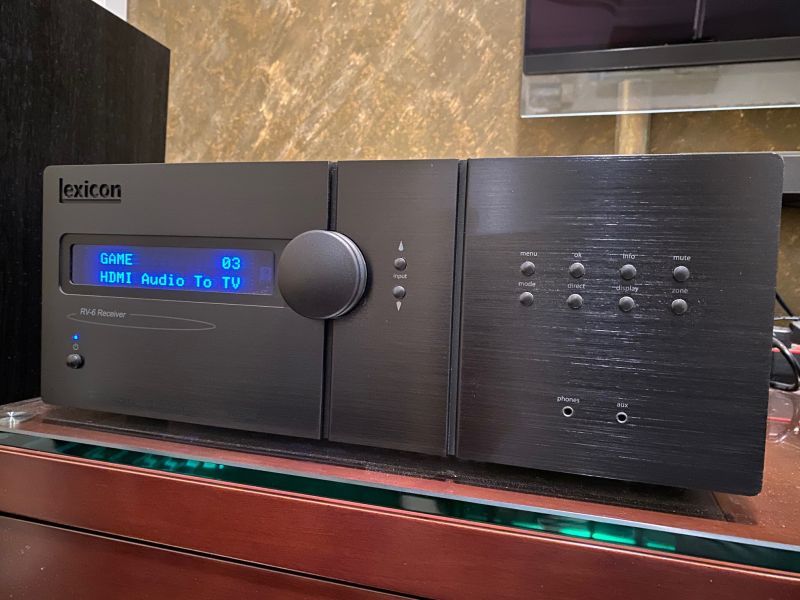 The Lexicon RV-6 means business. This is apparent from the moment you look at it. The front fascia is probably the most sparse fascia I have ever seen in a receiver. No flip down panels of hidden controls, no complex display with loads of little lights indicating different functions, nothing. What you see is what you get. Even the available display is an old-school dot matrix display likened to equipment produced back in the late nineties. There is a volume knob that sits almost center of the unit bearing rounded edges and a low profile which to me is the only modern looking thing on the entire unit.
Swing the unit around and the RV-6 greets you to a very tidy arrangement of connections. Among them are 7 HDMI (all HDCP 2.2 compliant), 6 digital (2 optical and 4 coaxial), 6 analog RCA and an Ethernet port which makes up all the inputs. There are no legacy connections for video sources on the unit with the entire focus purely on HDMI. On the output side, the RV-6 comes with 3 HDMI outputs and a single set of RCA outputs (audio only). From these HDMI outputs only Output 1 is ARC enabled so if you're hooking up to a smart display for content, make sure it's connected here.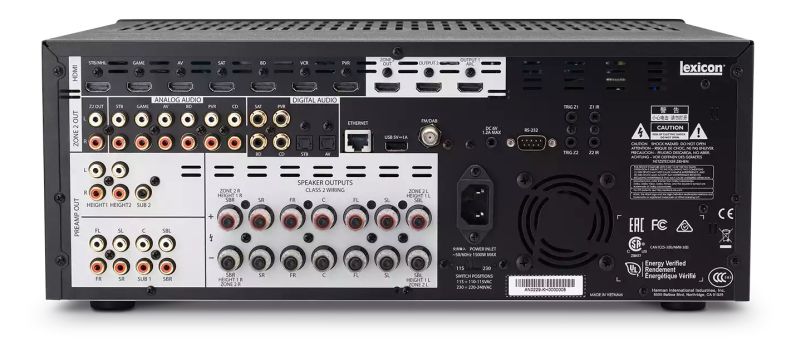 The amplification side sports connections for 7 powered channels, whilst the pre-amplifier section supports 11 discreet channels plus 2 sub-woofer outputs for the makings of a highly immersive setup. Capable of outputting 90 watts to all 7 channels, the Lexicon RV-6 has plenty of juice to power your speakers for rock solid performance in any of its configurations. Also for those who are particular on amplification, all channels are powered by a Class AB architecture.
The Lexicon RV-6 is not going to win any awards for looks and design with its Spartan approach to build and a user interface that quite frankly looks older then I am. The UI on the unit is most definitely the winner for the most unimpressive appearance with a likeness to control applications of machines in a factory. Even the Mobile App which looks light years better than the UI is still much to be desired with operation being a little clunky and too basic. Maximizing the use of this receiver is best via the included remote and must be done with a connected display as no information is shown on the units display when navigating.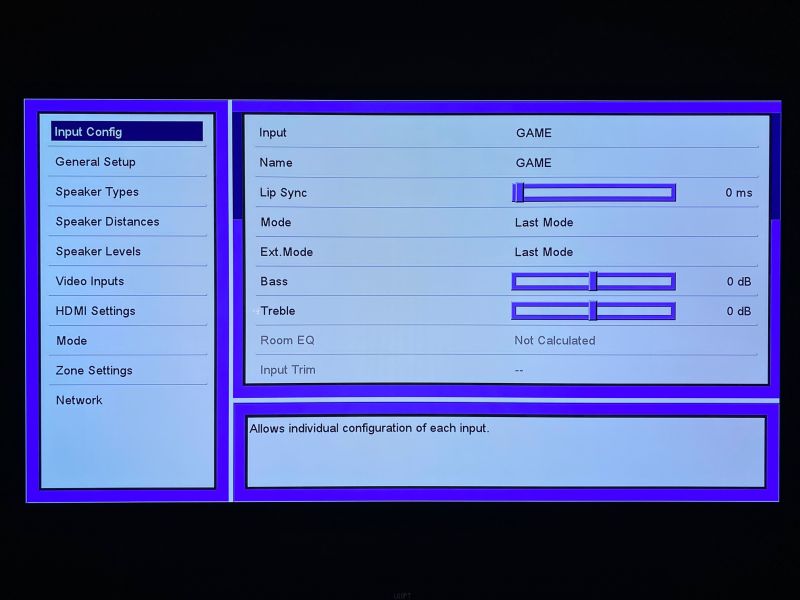 These let downs are however immediately forgotten the moment the receiver is setup and put through its paces. I have my unit setup as a 5.2 system and for source, I tried it with a mix of Netflix, Blu-ray movies and even a little PS4 gaming for good measure. If I were to summarize the performance of the RV-6 into a single word, it would be "intense".
This receiver is muscular and it shows. Go to test sequences like the catacomb gun battle in John Wick 2 was exhilarating. The RV-6 is equally as polished as it is punchy as in all that chaos of the ongoing gun battle.
There was an occasion where the Lexicon RV-6 did experience a hiccup and shut itself down. This occurred during the bass masterclass that is the opening sequence in Blade Runner which saw my dwellings foundation put to the test. Luckily for the structure, the receiver cut off at that absolute peak, stopping all audio output to protect it and the speakers. It must be mentioned that this isn't a detrimental occurrence instead it's a blessing as it prevents unintentional destruction of both speakers and in my case, home. There are settings which allow you adjust the sensitivity to ensure that you're getting the right sound from your setup which in many cases can vary based on the equipment utilized.
Switching over to music, the Lexicon exhibits another wonderful quality with its ability to render excellent stereo and multichannel audio making it a great option for music. Listening to music streamed on Spotify through the Ethernet connection, to RV-6 showcases a sound quality that is impressively detailed and highly engaging especially when considering that this is a home theater receiver. This is in part thanks to the use of class A/B amplification which is the preferred choice for many audiophile amplifiers unlike class D which is the go to for most AV receivers. The bigger RV-9 on the other hand employs class G amplification which provides better efficiency, translating into better output and control of speakers.
It is important to remember that the true potential of the Lexicon RV-6 lies in its ability to maximize the potential of the connected speakers. In my testing I was able to try the receiver with both my in house Klipsch Reference Premiers which are easy to drive and alternately also tried it with JBL's HDi speakers that are far more demanding. The more mature and better resolving JBL's was definitely a more satisfying experience with amazing grip especially on the bass which was remarkably taut and fast. This quality paired to its amazing control at high volumes made and stable clean power delivery from the Lexicon made for some larger-than-life listening.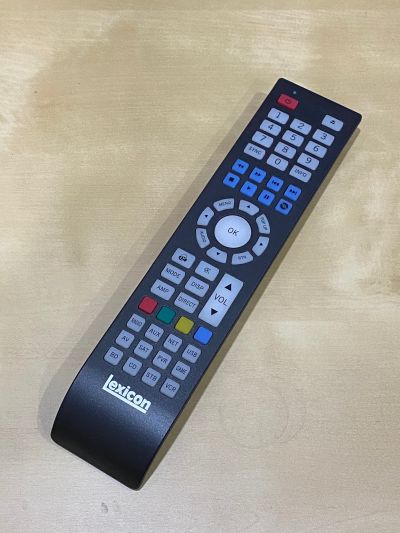 Picture quality is another aspect of the RV-6 worthy of praise. There is a noticeable improvement in the color output with images looking punchier and clean. This gain is especially evident in movies with high contrast imagery like Blade Runner, Ready Player One and Guardians of the Galaxy. I wouldn't say that this is the Lexicon adding something but more of it taking less away from the actual source allowing the true quality of your components to come to light.
The Lexicon RV-6 was built to satisfy the cravings of hardcore home cinema enthusiast. It's no frills approach may not be to everyone's taste, but its performance on duty is something that can't be denied. Add to that, a well-planned out list of connection and you have the makings of a keeper. This receiver strips away all the elements that could keep it dated and focuses on key requirements that many AV enthusiast (myself included) constantly look for but can never find (unless in super high-end flagships).
The Lexicon RV-6 retails for RM13,000 and is distributed by AV Designs.