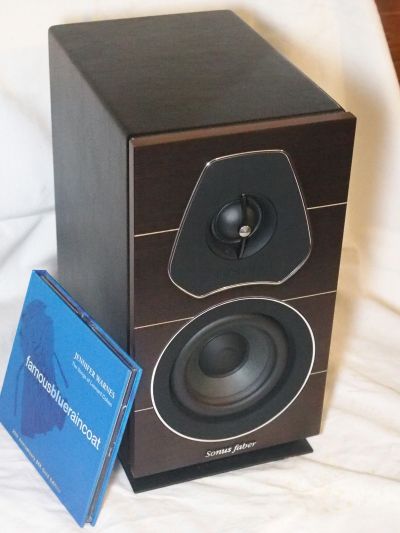 By Lam Seng Fatt
Sonus Faber has always been known for luxurious high-end speakers with a classy sound. And, of course, they are expensive.
However, with its new entry-level Lumina range, Sonus Faber is reaching out to another set of customers — those who are just venturing into hi-fi (hopefully as the next evolutionary step from head-fi) but do not want just any other budget speakers.
The Sonus Faber Lumina range has three speakers so far — the Lumina III floorstanders, the Lumina 1 standmount speakers and the Lumina C1 centre speaker. The Lumina range is designed for stereo listening and AV systems. For the low-frequency effects are the Gravis I and II subwoofers.
Sonus Faber says in its website that the "Lumina collection comprises the core values of Sonus faber and its iconic materials, such as real multilayer wood, leather and the natural composition of drivers".
Indeed, for entry-level models the Lumina range does not skimp on luxury. The made-in-Italy speakers are clad in leather and the front baffle comes in three finishes — black, wenge and walnut.
The Sonus Faber Lumina 1 is a very petite speaker measuring 280 x 148 x 213 mm (11 x 5.8 x 8.4 ins) and weighs 4.4 kg (9.7 lb) each. They are slightly smaller (but deeper) and lighter than the BBC LS3/5A monitor speakers.
It is a two-way vented box design with the vent at the bottom of the speaker firing to the front. Its tweeter is a 29 mm high definition DAD driver while the bass driver is a 120 mm paper cone driver.
The rated frequency response is 65 Hz – 24.000 Hz and sensitivity is 84dB. Nominal impedance is 4 Ohm and suggested amplifier power output is 30W to 100W.
It was a bit of overkill, but I used a 300-watter Bryston 4B SST to drive the speakers. Preamp was the Lamm LL2 Deluxe and the DAC was the Wyred4Sound DAC2. Sources were the YS Encore CD transport (which features a Philips CDM4 transport) and a laptop with Shunyata Alpha USB cable boosted by the iFi iSilencer+ and iFi iPurifier3.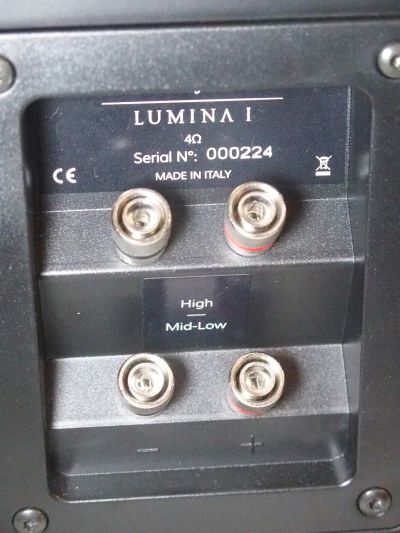 First I will touch on connecting the speakers. Initially I used Kimber 12TC speaker cables. Since I had reviewed Sonus Faber speakers before (see https://www.av2day.com/2015/02/sonus-faber-venere-2-0-a-veritable-source-of-good-sound/) and found they sounded better bi-wired, I used DH Labs Q-10 speaker cables to bi-wire them and indeed the Lumina I sounded better with more depth and details.
As for positioning, I tried the equilateral triangle method and found it sounded quite alright, but the best was when the speakers were placed about 6ft 6ins apart, 34 ins from the rear wall and the listening position about 10ft away. But I had to toe the speakers in till I could only see the front baffles of the two speakers from where I was seated.
It was then that the Lumina I started singing. I was listening to Diana Krall Wallflower on Tidal and her voice was smooth, mellow and slightly husky. Leonard Cohen sounded deep and bassy.
The imaging was solid and stable, depth was commendable but soundstage was slightly narrow.
The good aspect of the Lumina I was that the tonal balance was quite neutral with a hint of warmth and the frequency response was quite even.
Bass was quite good given the size of the speakers. Do not expect much deep bass from the Lumina I, but the mid-bass was quite tuneful and tight. The treble was clear and transparent, but it was the mid that was quite magical. As I said earlier, Diana Krall and Leonard Cohen sounded very good.
Priced at RM4,480, the Lumina I may be a bit pricey for an entry-level product, but I can say that it shares many of the traits of Sonus Faber's higher-end and more expensive models.
Sonus Faber products are available at Perfect Hi-Fi's outlet in Wisma MPL, Jalan Raja Chulan,
50200 Kuala Lumpur. Call 03-21421693 for more details.