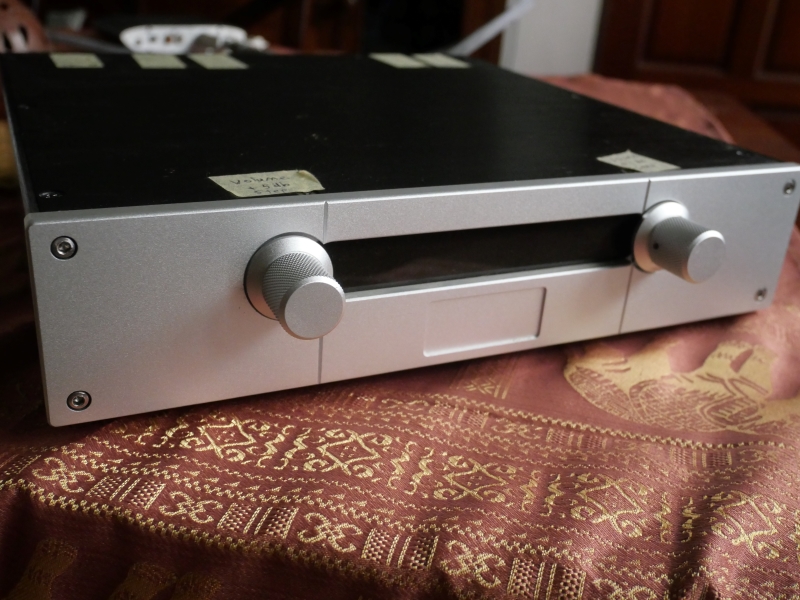 By Lam Seng Fatt
Amplifier-designer and electrical engineer Lau Wai Pan, who now lives in Penang, has come up with a fully-balanced preamp. And it is not an ordinary balanced design.
Instead of using a four-deck volume control like a normal balanced preamp, he uses only two — the volume knob on the left features a 5dB increase in volume per click and the one on the right offers increments of 1dB per click.
Lau says his design enables the balanced circuit to be realised by using just two stepped knobs with minimal switching contact. Volume is actually controlled by an LDR (Light Dependent Resistor) circuit with an LED providing the light.
"This balanced preamp is complicated and not easy to design properly. All the components have to be matched and I do the matching myself with my own bench tester and parametric analyzer using a laptop," he said. After matching the components, he solders them onto the circuit board. He also does engraving on the front panel.
The battery-powered Jumpan Balanced preamp that I received for review is a beta model, which is actually a version two; the first version was designed and built during the first few rounds of COVID-19 lockdowns two years ago. However, Lau has already finalised the design and the model for sale will have two pairs of XLR inputs and two pairs of XLR outputs with capacitors upgraded to ClarityCap bypassed by Mundorf. Its dimensions will be 12.5 ins wide X 12 ins deep X 2.75 ins high and its retail price is RM4,000.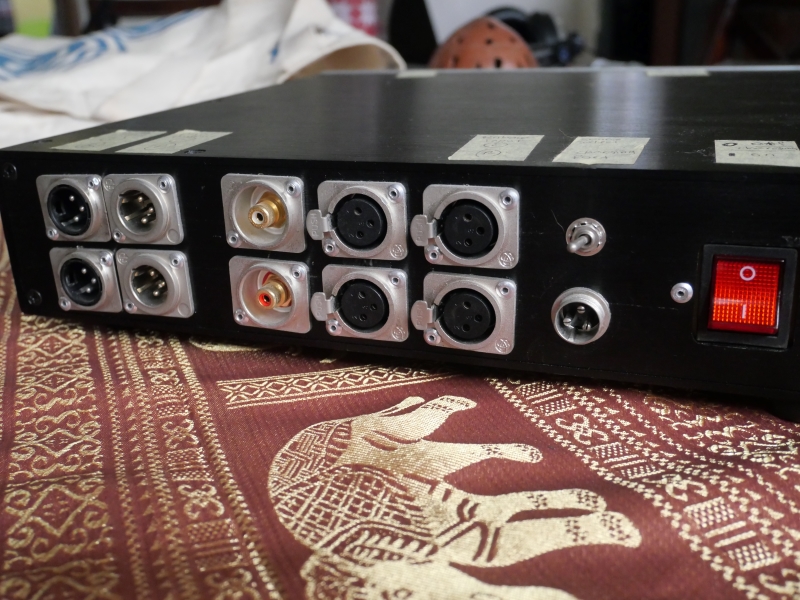 To fully exploit the capabilities of Lau's Jumpan Balanced preamp, the entire system has to be wired up in the balanced way. I used a Van den Hul AES-EBU 110 Ohm Professional cable to connect from the CEC belt-drive CD player to the Wyred 4 Sound DAC2 and a pair of Audience AU24 SX XLR cables to link the DAC to the Jumpan Balanced preamp and a pair of Oyaide QAC 212R XLR cables to link to the Bryston 4B SST power amp. Speakers used were the resident ATC SCM50 floorstanders and the SB Acoustics Ara Be bookshelf speakers.
How did it sound? In a few words…smooth and fast. I was actually quite surprised by how analogue-like it sounded. In fact, I had just finished listening to some albums on another single-ended system before I played CDs on the balanced system and I was taken aback by how close the CDs on the balanced system sounded to the LPs on the single-ended system.
I am sure some of the smoothness was contributed by the CEC belt-drive CD player, but the Jumpan Balanced preamp played a role too. When I listened to a Yellowjackets CD, I noted that the preamp sounded quite fast and detailed. Possibly due to the LDR volume control, the sound quality was organic and cohesive. The soundstage was quite wide, but it was the depth that was more impressive. That amounts to quite an achievement by a Malaysian audiophile-cum-amplifier designer. Indeed the Jumpan Balanced preamp sounds better than some preamps from the West that cost many times more.
If you have a system with balanced inputs but you are using only the single ended inputs, it may be a good idea to pick up the very affordable Jumpan Balanced preamp and go balanced for a different sonic flavour.
Lau Wai Pan can be contacted at 012-5121787.