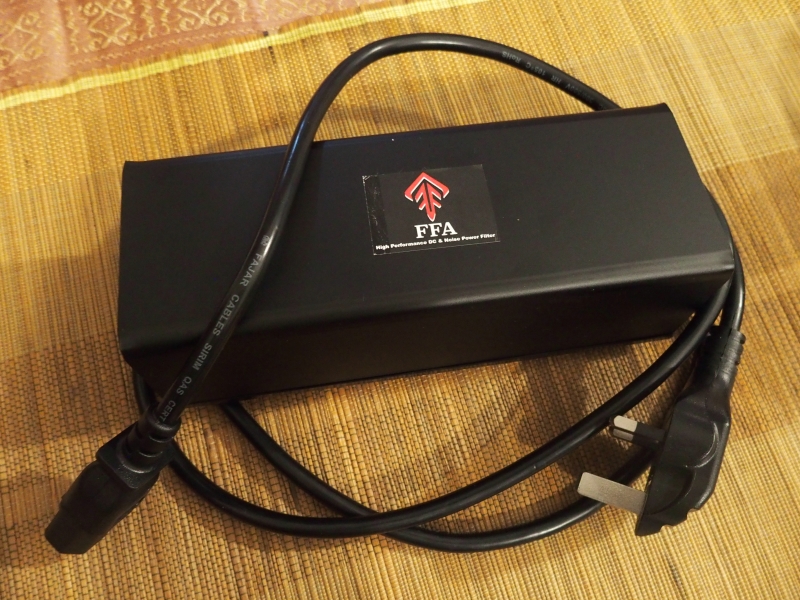 By Lam Seng Fatt
I was elated to discover that more Malaysians are starting to commercialize their designs for the AV industry. The latest Malaysian-made product to enter the market is the FFA DC and noise power filter which is designed by Oh Sing Her, who calls himself the technical adviser.
All audiophiles who needed to repair their amps, preamps, CD players, DACs, etc, would have been recommended to consult Oh, whose workshop is actually his house in Taman OUG, Kuala Lumpur. On most days, you will see some Krell, Mark Levinson and other American monster amps stacked up in the living room of his double-storey terrace house for repair.
Oh is a legend in the Malaysian AV industry, well known for his repairing and servicing skills. Now, he has designed a mains filter which is assembled and marketed by his friend Jonathan F. Fong, who is a professional singer, audiophile and seller of preloved hi-fi components.
The FFA DC blocker and noise power filter features a box a la MIT and Transparent. Oh said the filter is passive and has three stages — a DC blocker, an EMI filter and a Common Mode Noise Rejection filter. It is 1.5 meters long using high-current wire and comes with UK and IEC plugs. There is also a one-year warranty.
The box is very light, so there should be no issue of the cable putting too much strain on the IEC connection.
I was given two FFA DC blocker and noise power filters to review. I started with this system — a Silent Angel Munich M1 streamer/DAC, which is DC powered, an Arcam SA10 integrated amp and ATC SCM50 floorstanders.
It was a simple matter of switching from the stock power cable that came with the Arcam to the FFA mains filter.
The difference in sound quality was quite apparent — the noise floor was lower and the sound became smoother.
Oh told me to try it with the source, but the Silent Angel was powered by a wall wart, so it was not possible to test the FFA mains filter with the source. So I switched to another system — a CEC belt-drive CD player as transport, the Wyred4Sound DAC2 DAC, the Arcam SA10 used as a preamp and the Bryston 4B SST power amp driving the ATC SCM50 speakers.
Since the CEC CD player already sounds very smooth, I started with the FFA mains filter powering the W4S DAC. There was a difference, but it was not as immediately noticeable as when I connected the FFA mains filter to the Arcam integrated amp.
Since I had two FFA mains filters to play with, I decided to try other combinations. I connected them to the DAC and the Arcam (used as preamp) and there was surely a more noticeable improvement in terms of smoothness.
Then I used the FFA mains filters to power the Arcam (used as preamp) and the Bryston power amp. With this combination, the system started to sing very well indeed. The sound was smooth and there was an increase in details and layering with better imaging.
So if you buy a few FFA mains filters, you can experiment by using them with different components to find the right combination. The FFA DC blocker and noise power filter is actually quite affordable at RM599 each, which is cheaper than some branded entry-level power cables.
Jonathan F. Fong can be reached at 016-2380220.