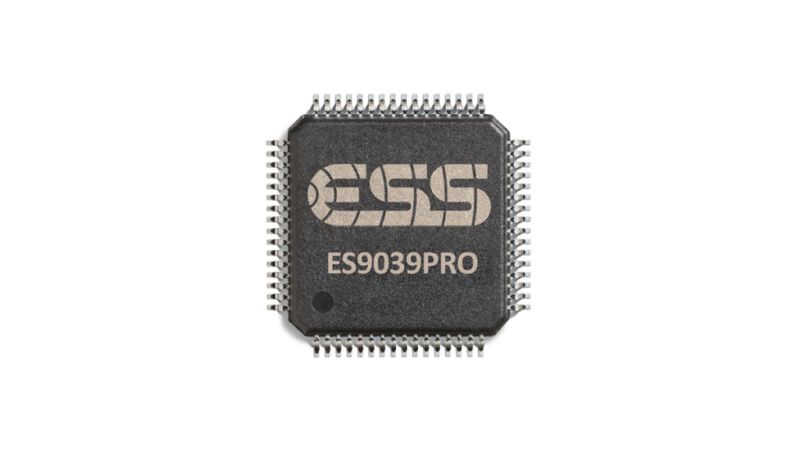 There will soon be a new generation of top-level DAPs, standalone DACs and streamer/DACs in the market because ESS Technology has just launched its latest flagship ESS Sabre ES9039PRO DAC chip. Another model called the ES9039MPRO DAC chip incorporates built-in MQA rendering.
In a media statement on May 16, ESS Technology said: ESS Technology, the industry leader in audio semiconductor devices, today introduces 4 new Sabre PROfessional Series Digital-to-Analog converters targeting the audiophile and the professional audio markets.
The ES9039MPRO & ES9039PRO provide 8 channels of Flagship ultra-low noise digital conversion with a dynamic range (DNR) of +132dB, -122dB THD+N per channel and +140B DNR in mono mode.
The ES9027MPRO & ES9027PRO also provides 8 channels of digital conversion with a dynamic range (DNR) of +124dB per channel and -112dB of THD+N.
The ES9039MPRO & ES9027MPRO have a stereo hardware MQA renderer built-in which helps recreate every minute detail of the original master recording. ESS is the only company to have an MQA hardware renderer in silicon.
The new Sabre PRO series DACs is based on the fourth generation of ESS patented Hyperstream® modulators that give SABRE DACs their legendary sound quality.
This latest generation of the Hyperstream® IV improves audio performance while consuming significantly lower power compared to the previous generation. This audio performance improvement translates into less digital noise inside the device allowing for the vibrant nuances of the audio to be more "real".
The Sabre ES9039PRO & ES9027PRO series can accommodate a multitude of input interfaces including TDM, I2S, LJ, RJ, DSD, DoP, and S/PDIF. They can also be programmed using multiple input methods including I2C, SPI, and for ease of programmability a new hardware (HW) mode.
Outstanding acoustical performance is achieved with the use of pre-programed filters that are ideal to preserve time-domain performance, and hence the best imaging and most accurate signal preservation possible. The ES9039PRO/ES9039MPRO have programmable FIR filters for the most discerning of audio enthusiasts and customers.
These new SABRE DACs are ideal for the most demanding of equipment, including audio mixing consoles, pro audio equipment, Audiophile gear, audio processors and test equipment.
"ESS technology has been leading the industry with the highest performance DAC for many years. Our newest ES9039PRO and ES9027PRO family further extend our leadership in this market and will allow our customers to further improve the performance of their systems." said Robert Wong VP of ESS Worldwide Sales and Marketing. "In addition, consumers can further benefit from better quality audio."
The ES9039MPRO & ES9039PRO DACs are available in a 64 pin QFP package, while the ES9027MPRO & ES9027PRO DACs are available in a 48 pin QFP and QFN packages. — Posted by Lam Seng Fatt