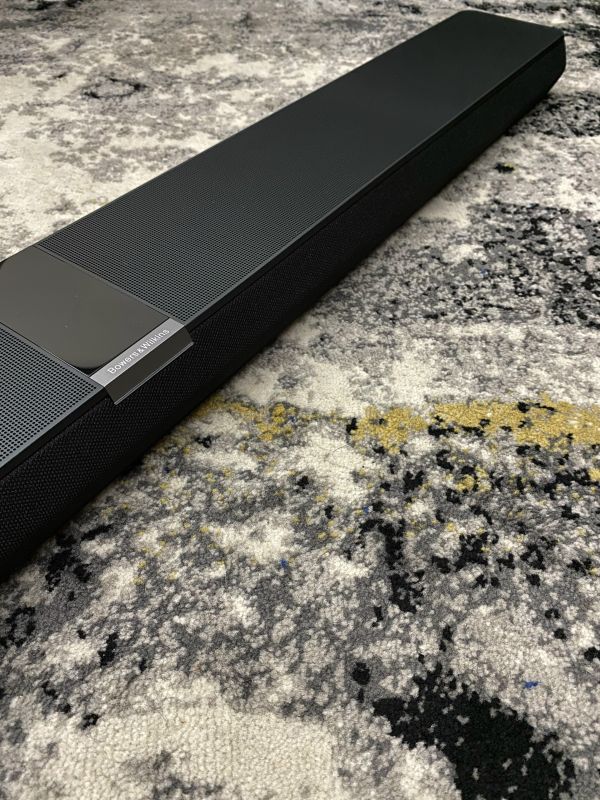 By Venoth Nair
It's been a long while since B&W's first effort in the soundbar market and just like the soundbars of today, the latest iteration from the brand has come a very long way. The Panorama 3, is the latest in the series and joins B&W's Formation Bar providing two options from the brand. So how does the Panorama 3 fair against the plethora of soundbar options out there? Let's dive into it and identify the kind of users that would benefit from this soundbar.  
The Panorama 3 is a Dolby Atmos-enabled soundbar which houses all its drivers in a single chassis, so there is no subwoofer unit to muck about with. The single bar has a width of 121 cm and a height nearing 7 cm making it a reasonably low-profile design that would sit ideally under screens 60 inches or larger. The panorama 3 does not necessarily need to be used with large screens as the unit's overall look has a beautifully elegant and polished design that makes it a beautiful standalone piece. This bar definitely has a high wife approval factor which is key for many enthusiasts.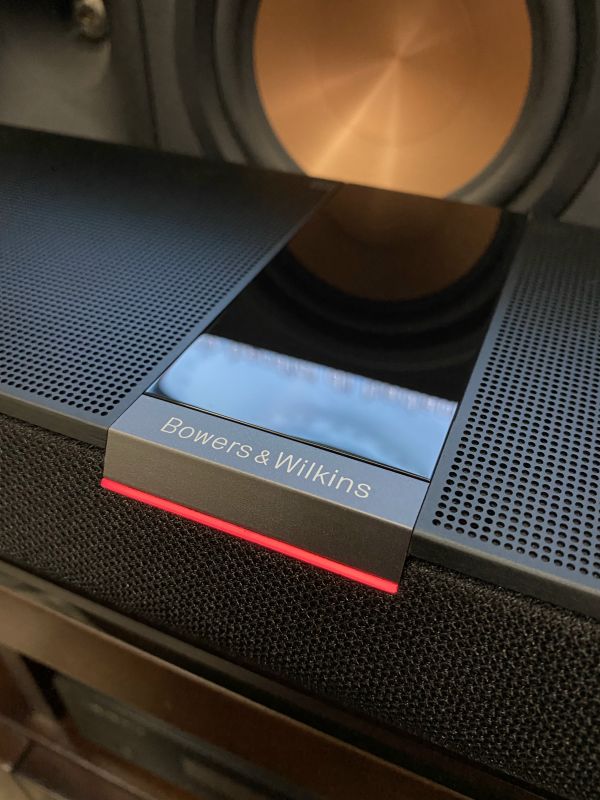 Looking at the build, the top of the unit sports perforated material that spans the entire length of the top with it split in the middle by a plain glass-like panel that houses the capacitive touch panel for the controls. The controls include dedicated volume up and down, a multifunction button, play / pause and lastly a quick access button for the voice assistant. Through the perforations of the grille we can see 2 x 50mm woven glass fibre cone Atmos drivers and a pair of 100mm bass units. All the other drivers are spread over the front and sides which are all concealed by a beautifully fitted cloth grill that looks super classy.
There is a tunnel cut-out at the back right in the middle of the bar where connectivity to the bar is possible via a single HDMI eARC. Additionally, there is also an optical input and an RJ45 ethernet connector for a wired network connection. The available USB C port however is disappointingly limited to service use only. The Panorama 3 also supports wireless connectivity via Bluetooth 5.0 or via wireless network with support for Spotify Connect and Airplay 2.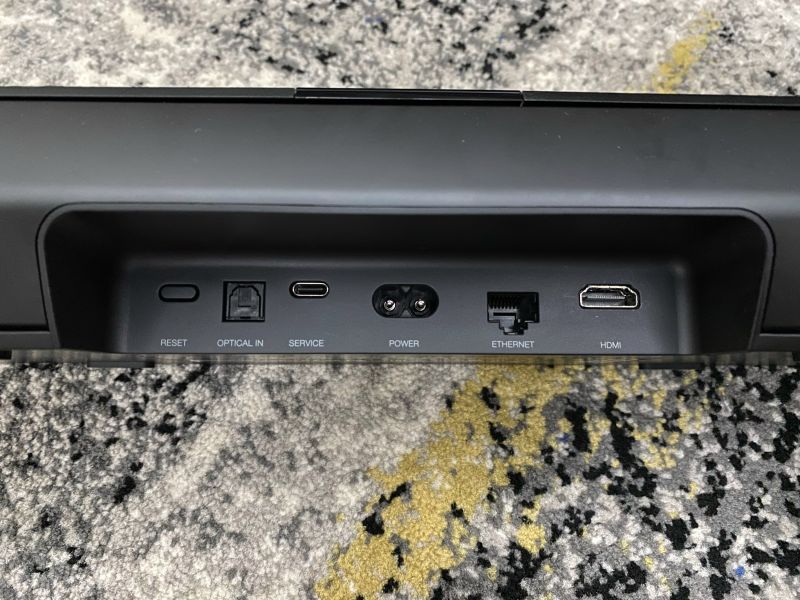 A total of 13 drive units makes up the complement of speakers that work together to deliver a 3.1.2 surround sound experience. There is a hefty 400 watts of total power on tap and this power shows when you fire up the Panorama 3. It's pretty easy to hit some extreme volume levels, especially with Atmos content, and not even realise it.
I began the audition session with some Atmos content from Netflix. The first movie to put the B&W through its paces was the comedic action flick, Red Notice. Overhead effects like the prison escape scene where the helicopter takes off as Ryan Reynolds flies it was delivered convincingly. Even the flight of the missile which was fired at him, zooming around from left to right, was spot on. The Panorama 3 delivers amazing width and height when playing Atmos which makes the surround effects perfect filling the entire front viewing area with a wall of sound.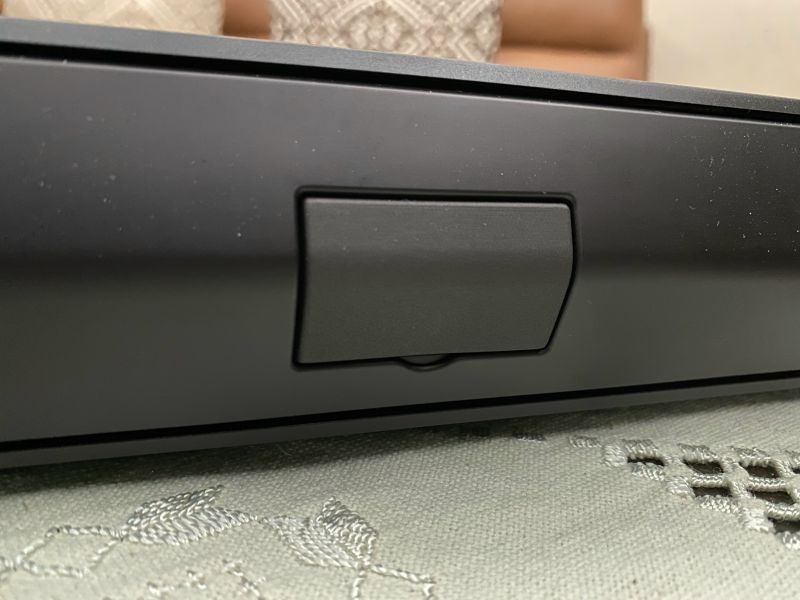 Another audible strength for the B&W Panorama 3 is its voice or vocal intelligibility, which is by far one of the best I have heard so far. Irrespective of source, whether good or bad, the soundbar ensures that every word uttered is perfectly clear. Midrange and treble are crisp and clean but the sparkle at the top is just a touch smooth to keep unpleasantries like sibilance in check. Some pretty terrible audio from sources like Astro do tend to allow this to creep in, but it's not to the detriment of the rest of the frequency range and the critical voice or vocal range.  
Bass performance is also great given the single unit, rarely feeling like it's unable to deliver the goods. Key sound effects like machine guns or hitting sounds have weight, good dynamics and punch. It's only during huge explosion and massive epic scenes, where the lack of bass weight, depth and volume tend to show, but this is purely due to physics. However, make no mistake, this soundbar is in no need for a sub, though having one would help flesh out the low end a little more.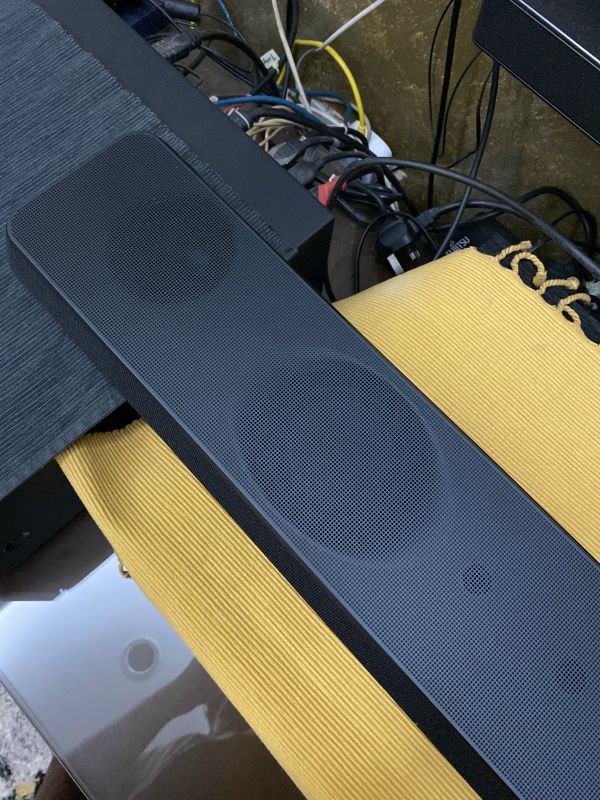 When listening to music on the Panorama 3, the performance delivered is engaging with good stereo separation. Clarity and detail are top notch just like its cinema performance. Sound staging is also decent though it will not create a setting quite as good as two separate full range speakers would. The bar's design simply limits the amount of width and height there is to the soundstage which contradicts how wide the bar sounds when playing Atmos. Hopefully there is an update that B&W can use to improve on this.
Bass is textured and pretty deep though lacking weight which is understandable given the physics of such small drivers. Bela Fleck and The Flecktones, Flight of the Cosmic Hippo highlights this with bass inflections and harmonics reproduced beautifully however there is that leanness in the bass which a decent 8- or 10-inch sub would normally flesh out. There is also a slight lack of absolute speed when it comes to percussion, again probably limited due to the mere physics of smaller drivers, but in all honesty the Panorama 3 was not at all bad, it was just not the best.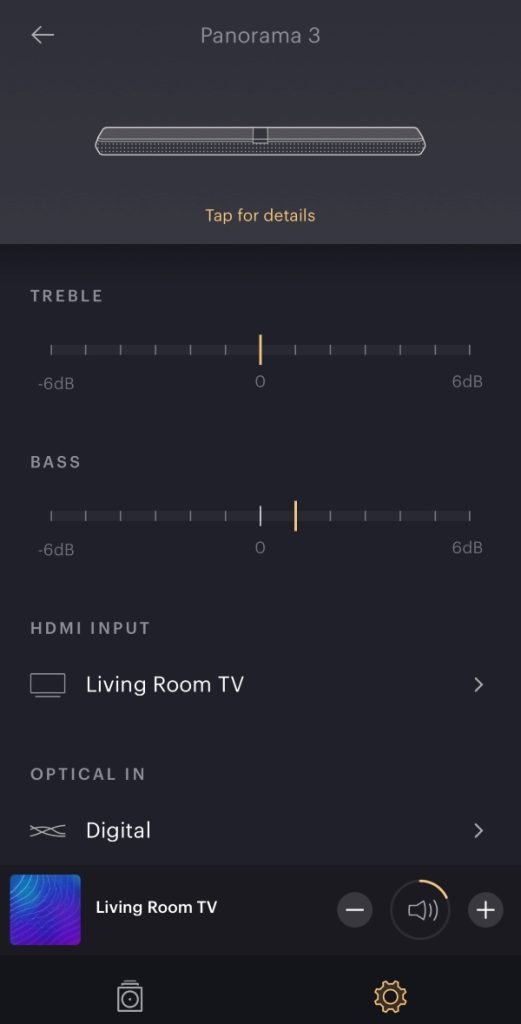 In conclusion, the B&W Panorama 3 is the most convincing single-point Atmos-based soundbar I have heard to date, with exceptional voice intelligibility, and superb scale and dynamics given its modest dimensions. I do however wish there was a way to play with the sound modes to allow the user to play with the driver usage in music and movie modes. A volume display would be nice also, at least as a reference point on the soundbar as opposed to just the app. But again, these are minor gripes which in my opinion do not outweigh the spectacular Atmos performance this bar is capable off.
If your diet of content is focused on Atmos-based movies and even music. Or if you are looking for a beautifully elegant fuss-free soundbar which can handle itself without a sub, if dialogue intelligibility is high on your must-have list, then the Bowers & Wilkins Panorama 3 is the soundbar for you! Plenty of power on tap with headroom to fill a decently large room with sound whilst looking superb as well, this soundbar offering is a great choice in my books.
The Bowers & Wilkins Panorama 3 retails for RM 5,800 and is available at TEG Sdn Bhd, B&W Malaysia Showroom, 2nd Floor, The Gardens, Midvalley City, Kuala Lumpur.