Big Sound, Small Attractive Package
By Venoth Nair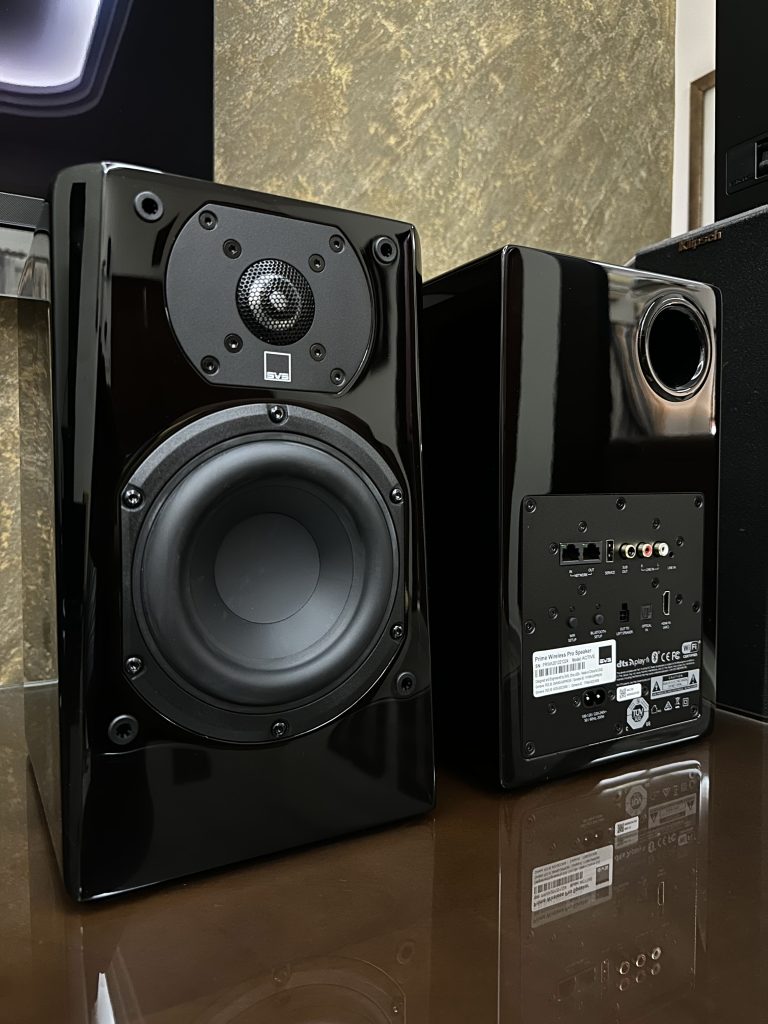 The Prime Wireless Pro, from American brand SVS, is the company's first product squarely focused on 2 channel desktop / lifestyle audio. The bookshelf speakers are active by design and feature 200 watts of amplification (50 watts to each driver) which is a Class-D design naturally. The amplification also features a digitally controlled tweeter to woofer crossover which is set at 2 kHz.
The drivers on each speaker are a 1-inch aluminium dome tweeter with an FEA optimised diffuser and a 5.25-inch polypropylene mid-bass unit. Together the drivers deliver a claimed frequency response from 25kHz all the way down to 42 Hz. These drivers are housed in a rather beautiful piano gloss finished cabinet which can be had in either black or white. The cabinet features a chamfer cut on the front baffle which tapers down from a wider cut up top to narrow down low. SVS claims that this design helps to minimise edge diffraction enabling the soundstage to be broad while remaining precise.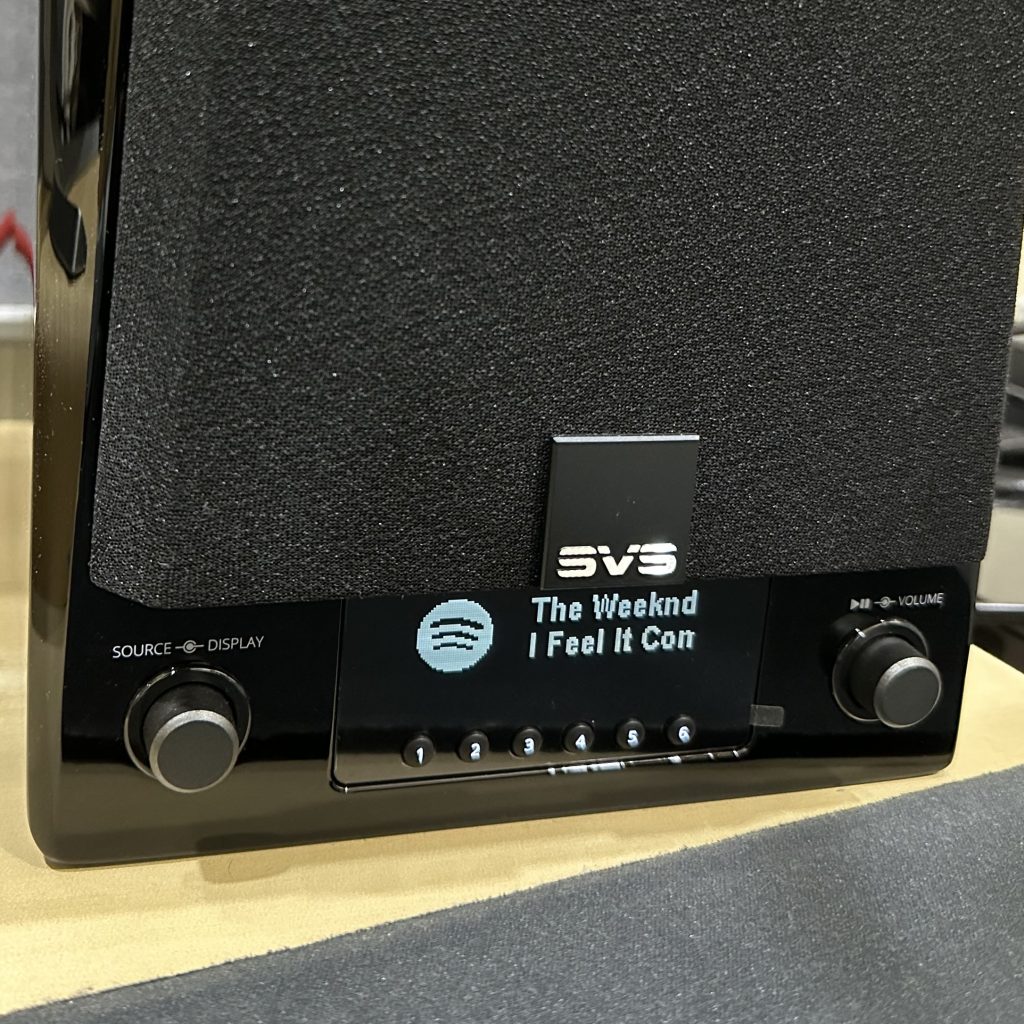 Staying on the front, the speakers come with pin held grills (sadly not magnetic) and also a 3.15" OLED display and some controls on the right speaker which houses the electronics. The small monochrome display is flanked by a source selection knob on the left and a volume knob on the right. Below it there are buttons number 1 to 6 which can be programmed to instantly access content of your liking (similar to that on the Bluesound Node). The astute will notice the absence of a power button which is intentional. SVS chose to have the speakers in an always on power state for quick power ups in any use case.
Speaking of use case, the SVS Prime Wireless Pro is a ridiculously flexible speaker. It can be a standalone stereo system, an active speaker solution in a Hi-Fi system with multiple sources, a soundbar replacement or TV speaker upgrade and can even be used as a desktop speaker system. To allow for all this flexibility, the Prime Wireless Pro comes with balanced mix of both digital and analogue connections. There is even a network input for a more stable streaming experience. The only thing missing really is perhaps phono support for those invested in vinyl resurgence. Although you can easily add a standalone phono stage if you want to.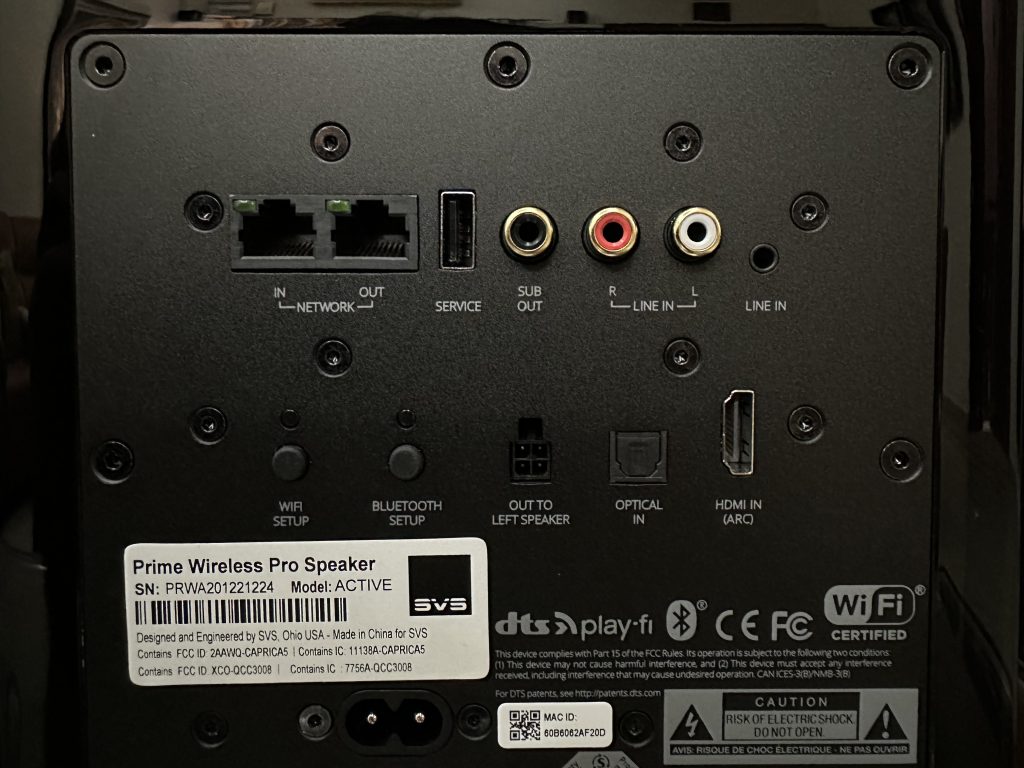 Other interesting details are the inclusion of pretty much all popular streaming options, as well as Bluetooth 5.0. Also knowing that SVS is famous for its subwoofers, the Prime Wireless Pro's come with a subwoofer output. Good to know that the speakers will actually adjust its response by activating its low pass filter at 80hz when a sub connection is detected, optimising performance.
With all the technical parts out of the way, let's talk about performance and how these speakers do in actual use. Firstly setup, which was a total breeze, connections are easily made as the interlinking cable between speaker is a Molex style proprietary cable (10ft in length). Speaking of which, this cable is not something that can be swapped with a third-party option. So, if you're looking for longer lengths, you will need to buy the cables from SVS. But admittedly the current length is rather optimum in terms of spacing in between for a speaker of this size and output. Another little niggle is the base which is also finished in perfect high gloss which makes it slippery unless you apply the included Elastomer feet. Maybe SVS can consider an integrated solution like a felt base or something more flexible for a future iteration.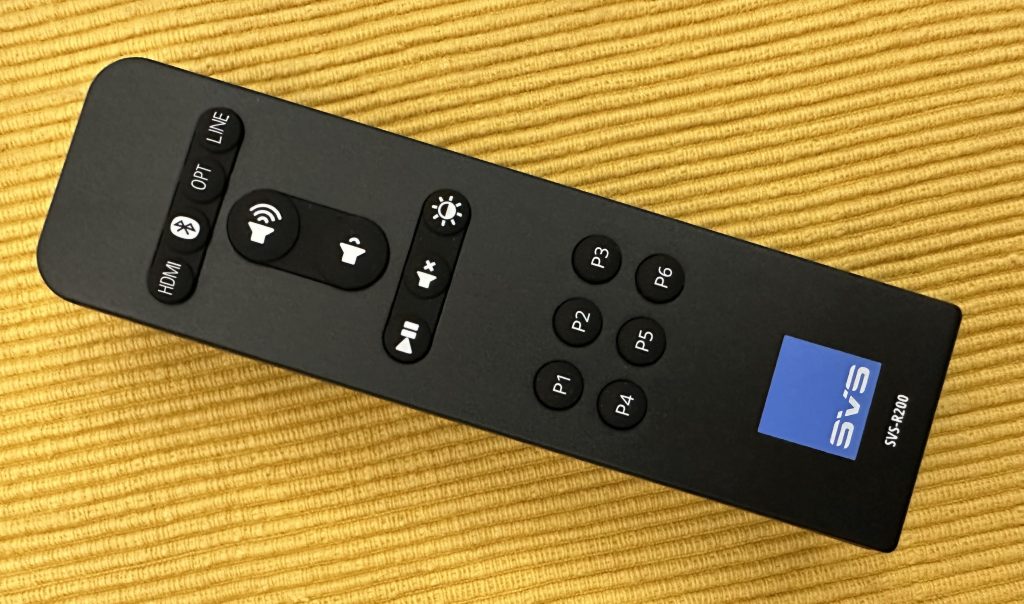 Connection to the network is also pretty easy which took mere minutes for me as an Apple user, though a quick read in the manual tells me that the process seems pretty painless for Android users as well. The quality of the connection is also excellent with my daily use scenarios seeing rare occasions of interruptions or drop outs, which is safe to say was more about my network quality then the fault of the speakers themselves. Bluetooth was also super reliable and worked flawlessly.
Listening to rock music really showcases the fantastic capabilities of this speaker. The bass weight and grunt paired to the superbly crisp and dynamic treble make for a highly exciting listen. The speakers jump up and grab your attention especially with tracks like "New Skin" from Incubus. Brandon Boyd's taps on the Djembe sound clean and tight, never losing its colour to the plethora of other instruments jamming away at the beginning of the song.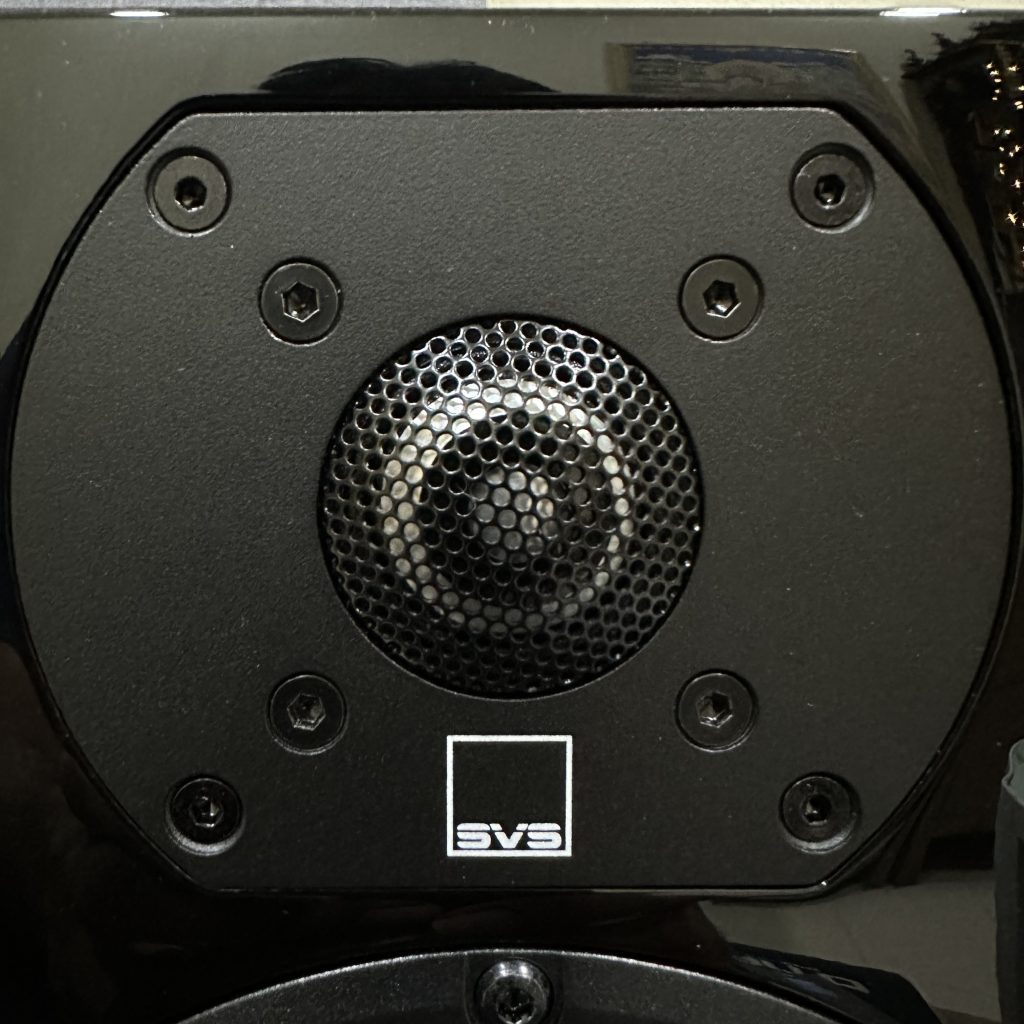 Bass was tight and dynamic, while managing a great degree of nuance especially at this price point. However, bass depth can be pushed to a point where the Wireless Pro's would tap out. The overall weight at deeper frequencies is limited especially when listening to obscenely bass heavy tracks like WAP by Cardi B. The music remains enjoyable but a true bass head will be looking to add a subwoofer to keep the deep end well endowed. Listening to Massive Attacks' Paradise Circus (all versions of it) on the other hand was played back with immense potency. Bass never felt lacking at all. So, take note that the experience will vary based on music choice. A matching SVS sub could be a perfect upgrade here.
This exciting, punchy and dynamic sound also plays really well when the Prime Wireless Pro's are used with a TV for movies. The amount of punch and output capable by these speakers make them great for high octane action movies or those with lots of information being thrown around. The speakers also throw a pretty impressive front soundstage which does elevate the immersion level, but it will not however replace a system built with surround in mind. The only downside really is surround formats will not work with the SVS as its purely 2-channel only, a minor caveat in my book.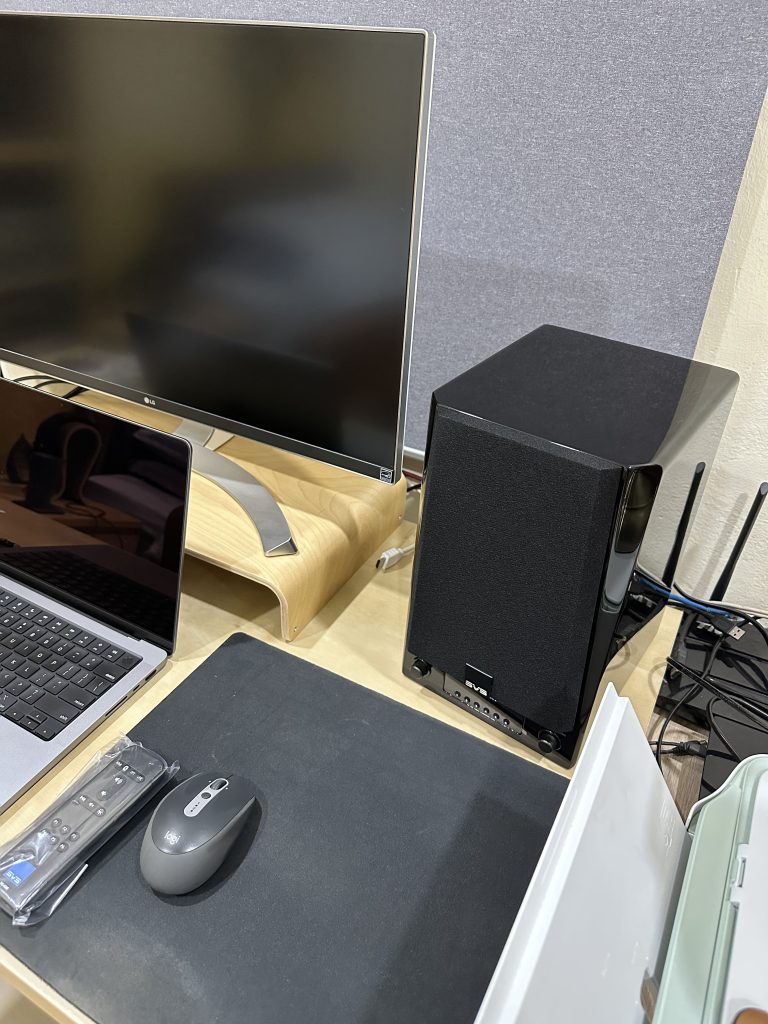 There are some things to take note of when using these speakers especially in a system with a display. For starters the unit with all the connections is fixed as a right speaker, with the passive as a left. Meaning any placement in an entertainment unit will need to keep this in mind as it does not accommodate channel switching. Secondly, it's important to note that the gloss finish is hyper reflective which can be distracting when placed next to a display. You could position them either in line or a little behind the display to remedy this minor concern. Perhaps SVS can look to have a matt finish in the next iteration as an option.
In summary, an excellent all in one speaker has been made here by SVS. A system which does so much with great sound quality, build quality and above all sits at an excellent price point. Forgiving with source content and exciting with any content, this is a crowd-pleasing speaker system. A must audition if you're in the market for a straight forward music system, a desktop speaker setup or even a TV audio system. The SVS Prime Wireless Pro retails for RM 4900 and is sold by The Experts Group.