Split Personality
Article by Venoth Nair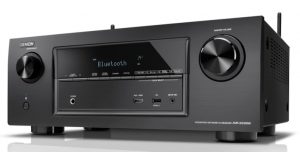 It wasn't too long ago that Denon re-launched its entire AV receiver range with a new direction focused more on connectivity to a home network. With this design in mind, the X-range of receivers was born. A couple of years have since passed and it's now time for Denon to renew its lineup with a range that fills up all those blank spaces left by its forerunners.
The Denon AVR-X2100W is a revamped model to its predecessor, the X2000. Keeping all the parts that made the previous one a star; upgrading key components to keep it up to date and competitive in today's current receiver cauldron, this receiver sits within the sweet spot.   When it comes to value, the Denon X2100W at RM2, 500 stands at an affordable price while providing many features that are usually reserved for advanced, pricier models.
The Denon is a 7.2 Channel receiver with multi room capabilities. Power on the X2100W is rated at a beefy 95 watts into 8 ohms which is more than adequate for most speakers out there. The receiver comes armed with 7 HDMI inputs round the back plus one at the front. It has a dual HDMI output which is great for either a multi room application or multi display if you have a projector along with your big screen TV. The dual outputs however cannot display different sources, it merely mirrors each other. The X2100W also has a USB connector up front for direct connection to your portable device such as a mobile phone or portable hard disk drive.
Bearing in mind the price point for the X2100W, this receiver will attract both the AV virgin and the hardened AV enthusiast, depending on the depth of their pockets of course. Continuing in stride of keeping things simple, this receiver comes equipped with Audyssey MultiEQ XT auto calibration system to help seasoned and new users alike setup this machine. A step by step on screen interface is also present to ensure users are guided well in all aspect of setup from speaker placements to connections. Depending on the complexity of your setup, the configuration can take anywhere from 15 to 30 minutes, which is pretty impressive.
Denon has always been known for constructing receivers that deliver an astounding stereo performance and the X2100W is no different. This receiver has the makings of a great stereo amplifier with its plethora of audio inputs, both digital and analogue, as well as an innate ability to deliver a great hi-fi performance provided that this unit is paired with speakers which are musically capable.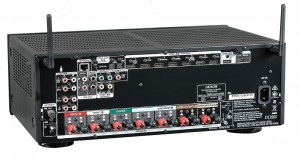 The newest additions to this receiver which reflects its AV pedigree is the presence of a built in dual Wi-Fi antennae which keeps the connection stable, Bluetooth connectivity, Airplay support as well as DLNA functionality. All this upgraded network connectivity keeps this receiver up to date and pushes it to current users who are more "connected" to the internet than ever before.
Streaming music from various sources is a breeze for the X2100W, thanks to these features and this makes it a good standalone source for music eliminating the need for additional equipment. Navigation while doing this is kept simple and intuitive thanks to Denon's remote app, is now in its third iteration for iOS, as well as Android users. Using the control app also makes multi room application more logical as the remote control would be useless once it is out of range. Speaking of which, it is possible to listen to a different source from the main setup at the same time, in essence making the Denon function like two different amplifiers.
The Denon X2100W is a receiver that just simply can't go wrong. It strikes a great balance between functionality, connectivity, features, simplicity and above all price. If you're on a budget and have a split personality when it comes to music and movies, then you should give this two faced powerhouse a whirl. You will be delighted by what you hear.
To audition the X2100W and other products from Denon, look out for them at the coming KL International AV Show 2015, July 03 – 05, JW Marriott Hotel, Jalan Bukit Bintang, Kuala Lumpur.
For further information contact:
Wo Kee Hong Trading Sdn Bhd
Tel: 03 79548088
Article by Venoth Nair