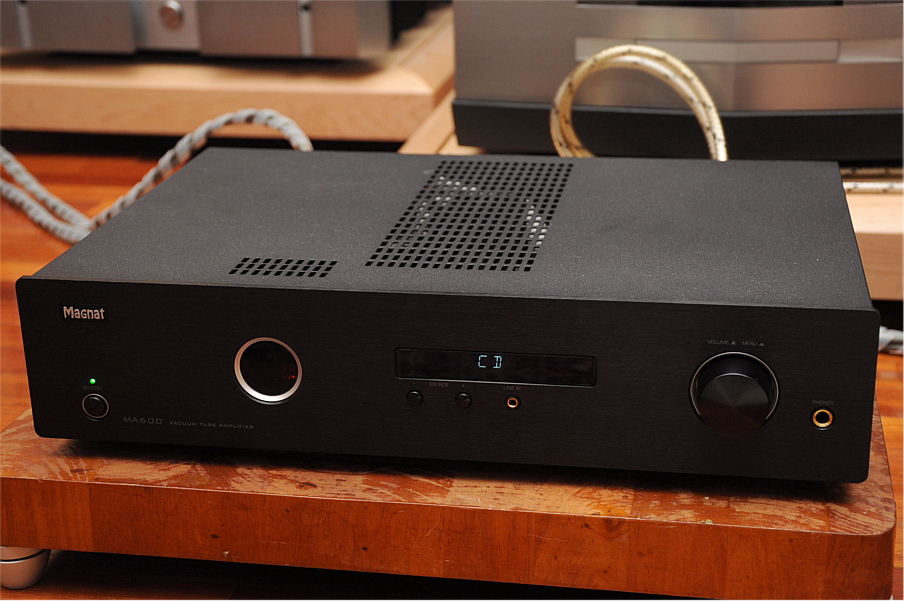 Article by Tan TE
.
Magnat, another brand I bet is unfamiliar to Malaysian audiophiles. Not to be confused with Magnet, which is a hifi brand from our Northern neighbour (Thailand), Magnat hails from Germany. It is not a newcomer to the hifi scene either as it has been in operation since 1973, which means the company itself is more than 40 years old.  Coincidentally, Magnat is represented by the same distributor in Malaysia as HECO, another German brand whose entry level loudspeakers I wrote about recently, and that's how I ended up with the Magnat MA600.
.
Retailing at a list price of RM4,193 (excl GST), the Magnat MA600 is positioned above other entry level integrated amplifiers from the likes of Marantz and Cambridge Audio. However, the MA600 is not exactly Magnat's entry level integrated amplifier, it is a member in a 4-model deep integrated amplifier line. Below it is the MA400 and above it the MA800 and MA1000. All these amplifiers have a design feature that distinguish them from many of the entry/mid level integrated amplifiers on the market, which is that they have tube(s) in them. I am sure seeing the word "tube" would have set a few audiophile hearts aflutter, as tube is seen by many as the way to a musical and beautiful sound. The Magnat MA600 is not a tube amp though but, like all its siblings, a hybrid amplifier that straddle both the tube and the solid state worlds. The preamp section is tubed, in this case a piece of ECC88, while the power amp section is solid state.
.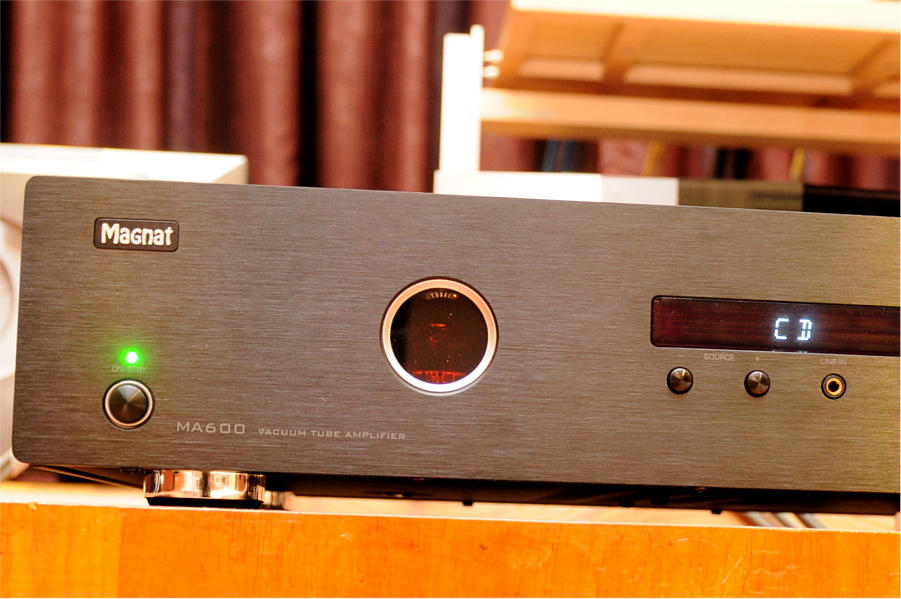 Magnat has further endowed the MA600 with many more features that are not expected at this level and definitely not available in many of the MA600's competitors. This is a richly featured integrated amplifier for your money. Firstly, the Magnat MA600 comes with 3 digital inputs (!), optical, coaxial and USB, and has a built-in DAC that can decode up to 24bit/192khz. Secondly, the younger generation who are into all things virtual and wireless (my kids don't touch any physical media any more, they get their instant music streaming with Spotify from their smartphones and laptops), the Magnat MA600 has Bluetooth capability catering to them. And thirdly, the old but hip vinyl is not neglected too, the MA600 has a MM phono input.
.
I can go on further. There is a 3.5mm line level input on the front fascia catering to portable devices. The headphone gang will be happy too with the 6.3mm output jack on the Magnat. The Magnat MA600 also comes with bass/treble tone control and a balance control, which can be bypassed for a more direct signal path. For the remote control capability, a credit card-sized slim device is included for this purpose.
.
Did I not say that the Magnat MA600 is a richly featured integrated amplifier?
.
Lastly, output power – Magnat quotes a figure of 70w@4ohm with <1% THD (there is no figure given for 8 ohm), and peak power of 2 X 150w at 1khz and 4 ohm.
.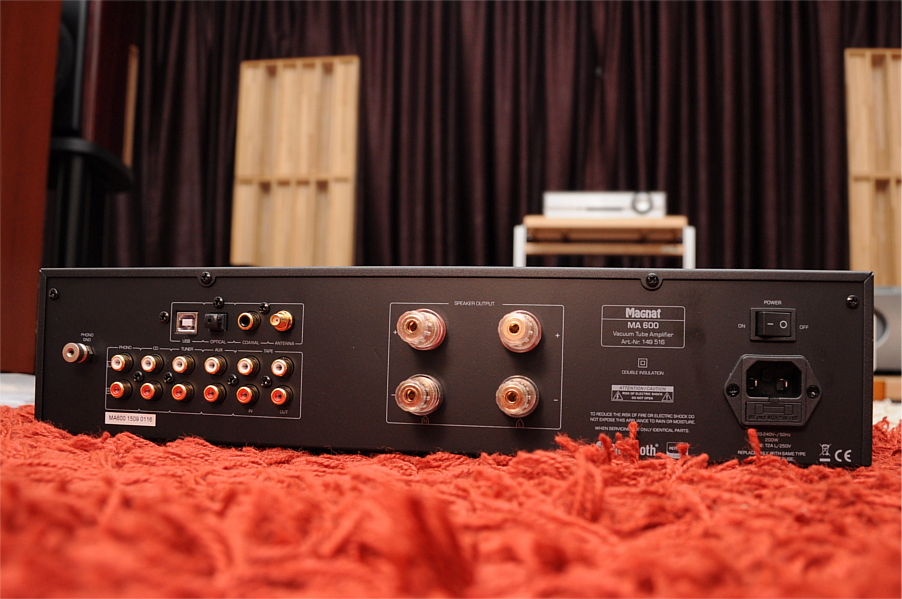 .
For the listening sessions, I used my usual Marantz DV7001 universal player as the frontend, cables were Wireworld and vdH. Power cords were all stock. The loudspeakers were a pair of KEF Q700 floorstanders that I acquired recently.
.
Upon switching on from cold or from standby, the Magnat MA600 went through a 15 second warm up cycle, after which it was ready to play. I found that it attained the best sonic performance after about 30 minutes of warm up, where smoothness of the sound and coherence exhibited by the amp improved further. If you were not using the tone controls it was also important to check that the bypass is switched on, which could only be done from the remote control. With the tone controls bypassed, there was quite a useful improvement in refinement and clarity.
.
While the MA600 was capable of taking in a multitude of input formats, I tested it strictly as an analogue integrated amplifier since I didn't have a CAS set up nor a turntable. I tested the Bluetooth capability briefly just to confirm that it worked (it did and it sounded quite fine) as I only had mp3 files to stream from my smartphone, which we all agree may not the best for equipment evaluation.
.
Feeding it CD and SACD material from the Marantz DV7001 and letting it drive the KEF Q700, the MA600 turned on a pretty fine show. It exhibited an excellent control on the KEF floorstanders, the sound did not falter when the music got complex and demanding. In this regard it definitely was an improvement over the other 2 smaller amps I have from NAD and Cambridge Audio, but we also have to keep in mind that the Magnat did cost 2-3 times over them. You get what you pay for.
.
The overall sound of the Magnat MA600 tended towards the clean and clear side but it did not sound cold, in fact there was more than a hint of warmth in the sound, which I would like to attribute to the use of tube in the preamp section perhaps, though I can't be entirely sure.
.
The MA600 exhibited an excellent delivery and a good grip in the bass region, there was excellent bass heft and definition through the KEFs. The upper bass and midrange were clean, it had a lighter feel, but was not lean. The highs were incisive and, again, were clean and smooth, it was non-fatiguing to listen to in long listening sessions. Overall details retrieval was very good, nuances in the music were clearly portrayed, no mushy sound there.
.
The Magnat MA600's performance is definitely a step up from the RM1k to 2k entry level amplifiers. Its control and power delivery capability gives it greater flexibility on loudspeaker matching. Matching the Magnat to, say, some speakers that excel in the midrange, like those from the Brits, will be truly excellent.
.
This is an integrated amplifier off the beaten path that is definitely worth checking out.
.
Magnat is carried by Audio Art. Contact David at 012-2499823 for more information.
___________________________________________________________
Here, I'd like to share 2 clips that I made of the Magnat MA600 playing in my room (matched with Marantz DV7001 and KEF Q700). The clips were captured with an iPhone 6 and downsized to mp4 files (with 192kbps audio).
.
Cautions, as usual: these clips cannot convey the actual performance in full, frequency extensions are limited, soundstage cannot be heard at all, and how loud the system was playing cannot be conveyed. However, I hope they can convey a few characteristics I would like to highlight (it is also advisable to listen to them through headphones if possible).
.
I'd like to thank Pop Pop Music and Reference Recordings who have graciously given me their permission to use their recordings in these clips.
.
The first clip is of the MA600 playing Track 11  "A Thousand Words" from Pop Pop Music's "The Jazzy Sounds of Teresa Teng" album, sung by Winnie Ho and accompanied by Roger Wang. Listen for the clarity and nuances expressed in the vocal part and the guitar: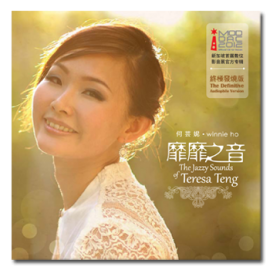 ,(
(File size 17.2MB, 2m 49s)
.
The second clip is from Track 1 from Reference Recordings' SACD – Tutti (RR-906 SACD) – Rimsky-Korsakov: Dance of the Tumblers, Eiji Oue/Minnesota Orchestra. Liste n for how the MA600 handles the complexity and dynamics on this track.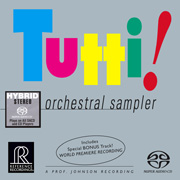 .
(File size 12.8MB, 2m 6s)