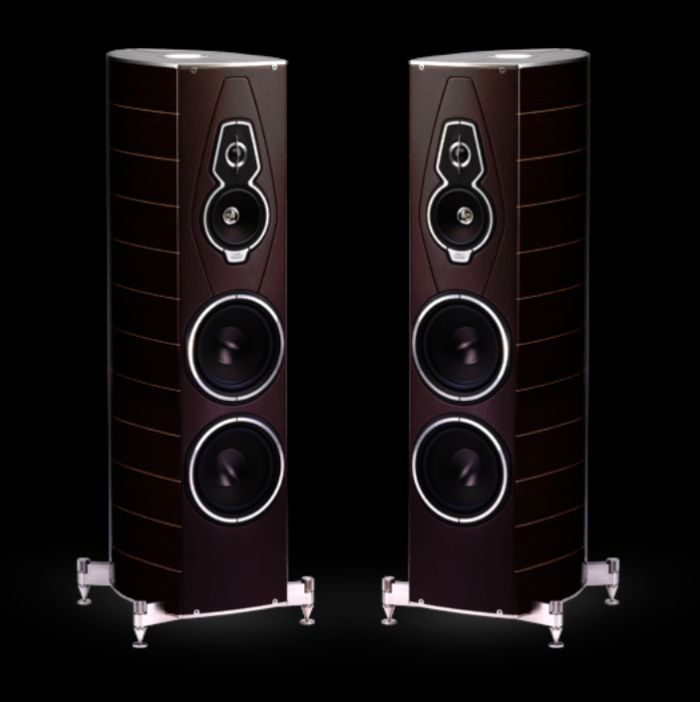 By Lam Seng Fatt
Watch out for the Sonus Faber Amati Tradition floorstanding speakers at the coming Kuala Lumpur International AV Show.
Head to Perfect Hi-Fi's room to hear the speakers from Sonus Faber's Tradition range such as the Amati and Guarneri. The latest model in the range is the Serafino.
The Sonus Faber Amati Tradition is a 3.5 way, full para-aperiodic vented box with "Stealth Ultraflex System" and "Zero Vibration Transmission" technology and staggered low frequency floorstanding loudspeaker system.
It uses a Sonus Faber H28 XTR-04 tweeter which is a 28mm silk dome "Arrow Point" DAD, implemented with a natural wood acoustic labyrinth rear chamber.
The midrange is an M15 XTR-04 featuring a Sonus Faber-designed 150mm neodymium magnet system offering ultra dynamic linearity. Two woofers featuring Sonus Faber-designed 220mm lightweight "sandwich" cone structure (high-tech syntactic foam core and two external surface skins of cellulose pulp) complete the package.
The Guarneri is a two-way standmount with a dedicated stand while the Serafino is a smaller version of the Amati featuring the same tweeter and midrange but with smaller woofers.