As I heard and saw it, wrapping up
by Venoth Nair
The KLIAV Show 2017 was a great experience which allowed me to sample a diverse range of exotic, beautifully built and high quality top end systems. Trying to audition all these systems on any other occasion would be impossible to achieve no matter how you try and definitely not under one roof anyway.  This is one of the reasons that make the KLIAVS something truly special for me as I am given the opportunity to literally compare and contrast different equipment while being able to engage the equipment on a personal level.
As I mentioned in my two previous installments, the focus this year was definitely vinyl which like many things in this day of age, is making a strong comeback. This was reinforced by the extraordinarily high number of expensive as well as affordable turntables on static display as well as for audition. Among them was the Dohmann Helix 1 turntable, paired to the Aavik U-300 amplifier and Raidho D2.1 speakers along with many other accessories and equipment. This system proved to be quite the hit with its competent delivery of delectable high-fidelity sound. Personally, I was seduced by the beautifully designed Scandinavian amplifier with its simplistic look, modern build and its unique control knob.

Moving on to another top-flight system on display which was setup by the folks at Audio Note in their second room are the Franco Serblin Ktema speakers which were driven by Analog Domain amplifiers. This system is also paired to a host of other components from Esoteric and Audio Note. This exotic system gripped me to my seat, with its amazing level of detail, warmth and depth. The sound quality was matched perfectly with the systems' immaculate build quality that screams class. Watching those power output meters on the Analog Domain amplifiers dance according to the music played was such a satisfying experience.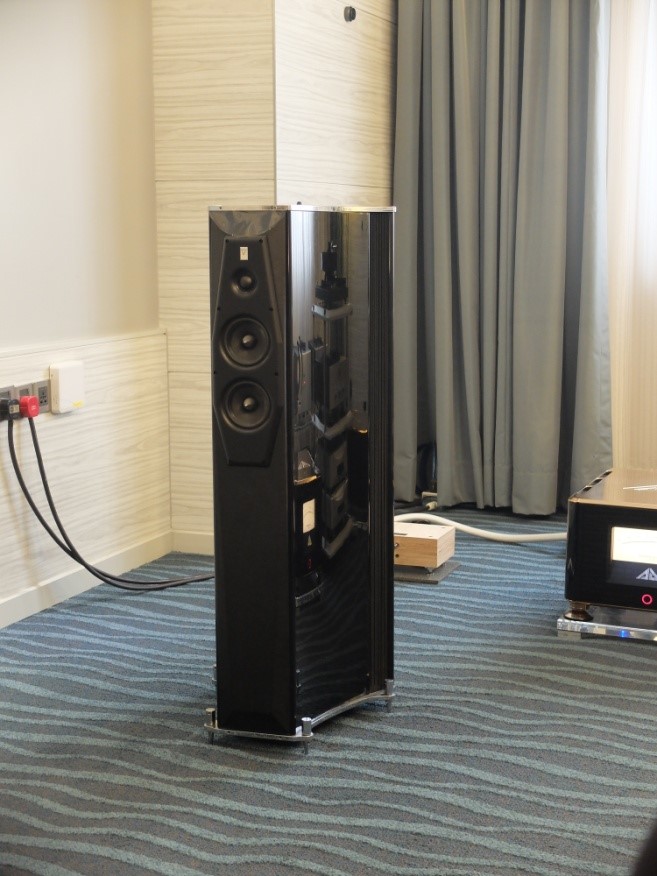 Moving over to Hi-Way Laser's room I found an active, wallet friendly speaker, not unlike the one they had last year, set up for demo.  These speakers from Acoustic Energy, (the AE1 to be exact) are designed specifically to be paired to components that come with built in preamp functionality, which eliminates the need for a standalone pre-amplifier.
The speakers are great for those looking to minimize the number of boxes in their system, or those with space constraints. The rather affordable price that comes with these pint-sized powerhouses, sweetens the deal as these speakers are able to perform well and also happen to be well matched with just about every music genre.   These AE1's are perfect for those looking to start out in Hi-Fi, or those looking to build up a simple but potent desktop system.
There were also many other top-class systems which delivered an amazing performance this year, like the Audio Research and Sonus Faber combo from Perfect Hi-fi as well as the hugely talented Chario and Vitus combo at the Swedish Statement room. These systems plus many more well-thought-out setups made for an exciting experience at this year's KLIAVS. After three days of walking about and listening to various systems while speaking to those who put in the time and effort to set everything up, one can't help but feel a strong sense of dissatisfaction due in part to lack of time to really sit down to indulge oneself in pure audio bliss. After all, it's not easy to get the best the world has to offer all laid out for your enjoyment all in one venue. That being said, I can't help but wait in anticipation for KLIAVS  2018 for my next audio and visual fix.