The World of Turntables
by Dick Tan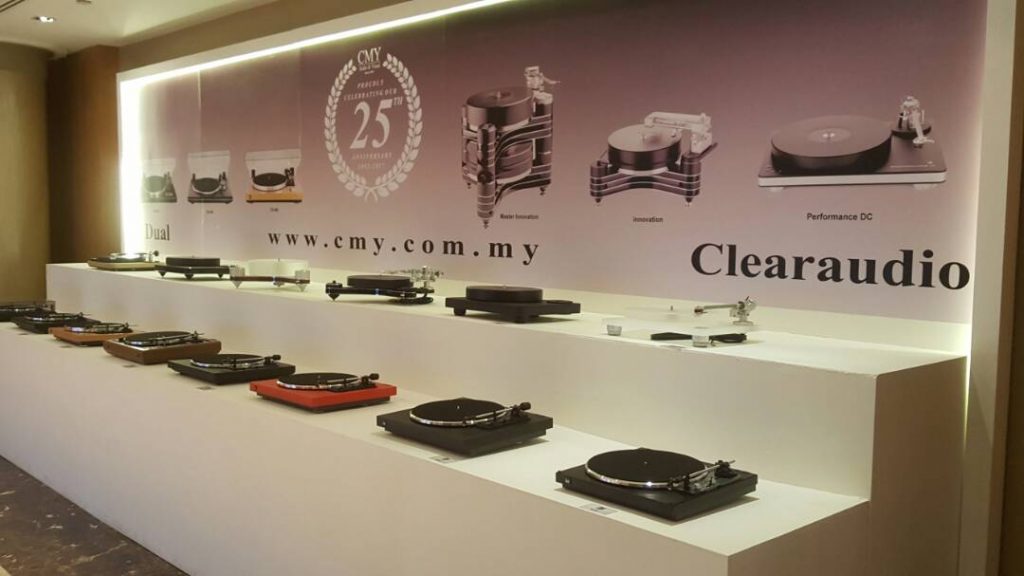 CMY Audio and Visual, one of the anchor exhibitors at last year's KL International AV Show 2017 pulled a stroke of exhibitionist brilliance when it debuts a booth dedicated to the various makes, class and types of turntables. CMY called that particular exhibit, The World of Turntables.
According to John Yew, the fondly regarded head of CMY Audio and Visual, the exhibit was so popular that he has decided to maintain it on a yearly basis at the KL International AV Show.
'My primary goal of setting up the 'World of Turntables' is to provide visitors to the KL International AV Show an insight to just how proliferate the turntable market is, since its resurrection from the obsolete pile some 15 years ago' says Yew.
According to Yew, the 'World of Turntables' last year fielded some 15 turntables from the world-renowned brands of Clearaudio and Dual.
This year at the KL International AV Show 2018 Yew says the company hope to increase the number of turntables if possible but that each turntable will be different from last year's.
The turntables on display will also represent the various level of cost, performance capability, engineering sophistication and aesthetic outlook.
'There, says Yew, should be a turntable that is ideal for each everyone shopping for either an entre level turntable or one where budget is no object.
The full range of turntables and other hi-fi and AV products can be auditioned at the CMY Audio and Visual booth at the coming KL International AV Show 2018, July 20-22, Sunway Putra Hotel, Kuala Lumpur.
For further details contact: CMY Audio-Visual Sdn Bhd.
Tel: 03-2143 9406 / 21434357
Dicky Ng at 012 3308873