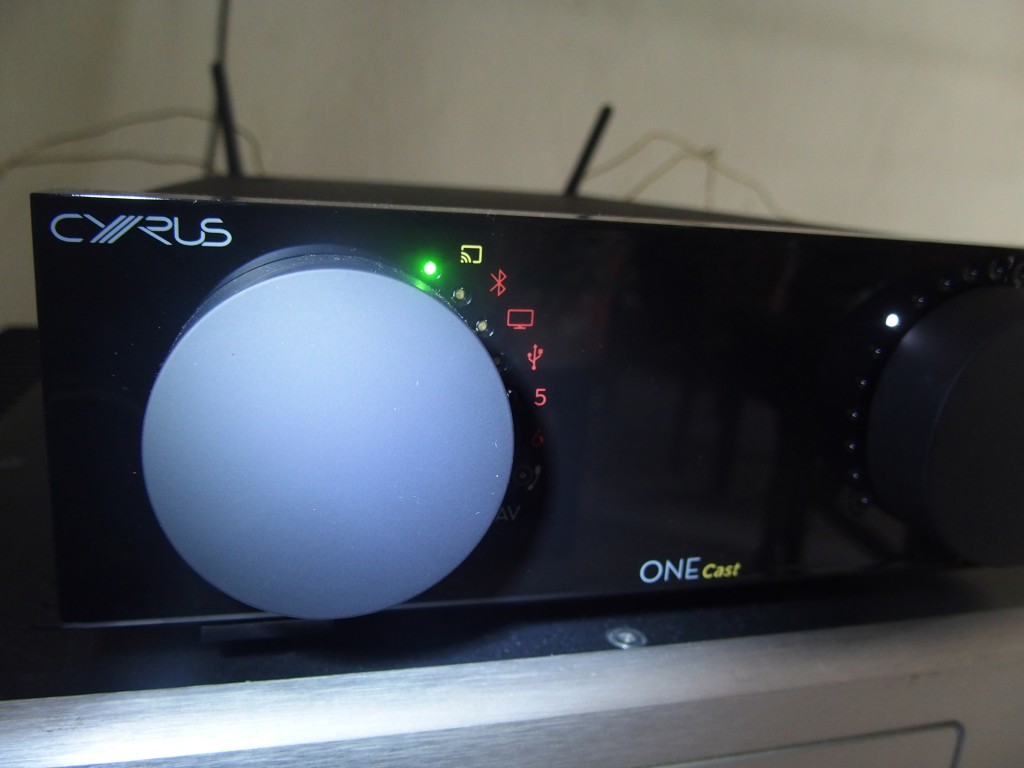 By Lam Seng Fatt
The shoebox-sized Cyrus ONE Cast integrated amplifier is one of those modern all-in-one smart gadgets that can do almost anything and can be controlled by voice commands.
While it can link with your smartphone via wi-fi (802.11a/b/g/n/ac) and Bluetooth and play music wirelessly, it can also be used in the normal way by connecting a co-ax cable from a CD transport or a USB cable from a laptop.
Here's a list of its features: Google Assistant, Amazon Alexa and Apple AirPlay 2 enabled; Asynchronous USB input (up to 32bit 192khz and DSD to DSD128); built-in MM phono stage for turntables; and analogue input configurable for AV integration.
Its amplifier section features the Cyrus 4th generation Hybrid Class D amplifier which pumps out 100W per channel into 6 Ohms.
It has SID — Speaker Impedance Detection which automatically calibrates the amplifier to your speakers.
It also has Pre outputs and a high power, high voltage class AB headphone amplifier.
Firmware updates are done automatically wirelessly and if you have voice assistant smart speakers on the same wi-fi network, you can use voice commands to send music directly to your ONE Cast smart amplifier or even set as part of a group for true multiroom audio.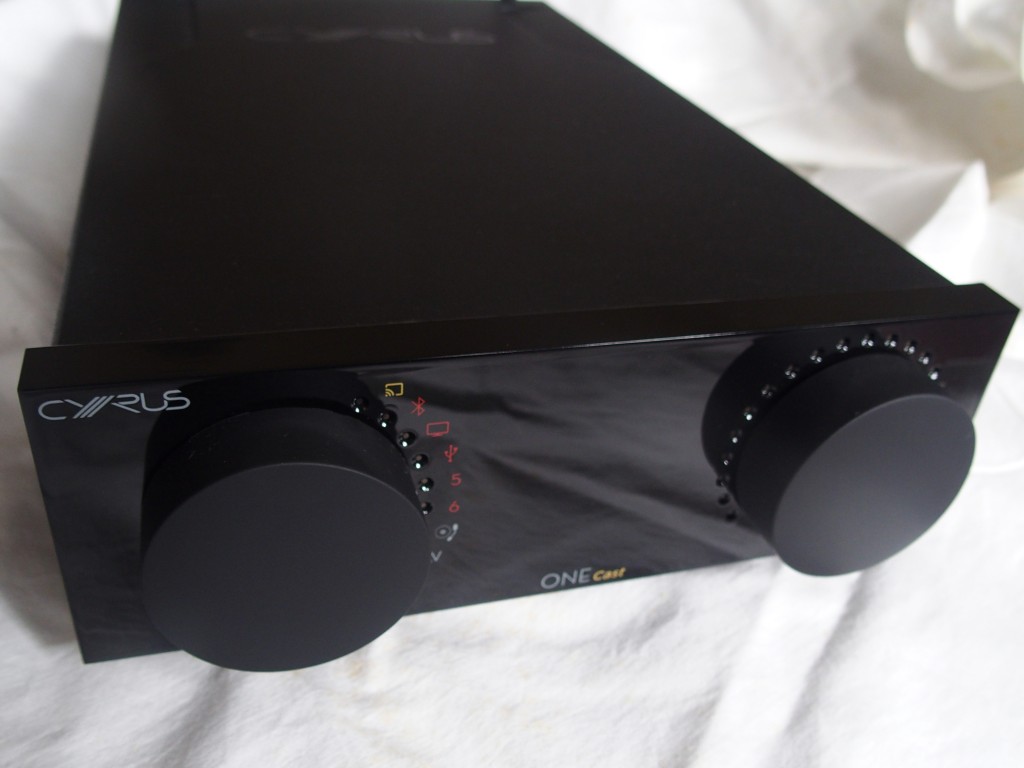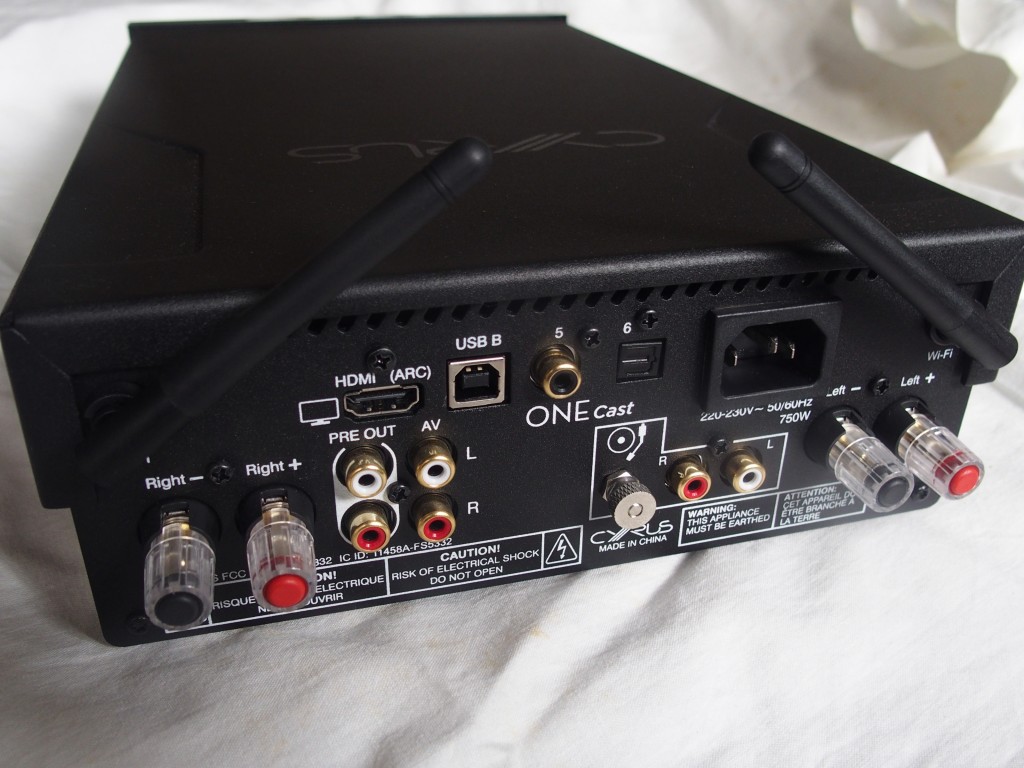 From the outset, I have to state that the Cyrus ONE Cast is more about convenience than pure sound quality.
It really is a convenient component as I can control it with my smartphone and even my laptop. As for sound quality, I found it to be dependent on the source.
Via wi-fi, Tidal, Spotify and other music streaming sites tended to sound a bit boomy with loose bass.
However, when I plugged the laptop to the Cyrus ONE Cast with a Furutech USB cable and played songs from Tidal and Spotify, the bass tightened up and the sound quality improved greatly.
Sound quality was also good when I played CDs and connected the CEC belt-drive CD player to the Cyrus ONE Cast with a van den Hul co-ax cable.
I could not test the MM phono input as the cartridge I use is an MC model. But I did check out the headphone jack with my pair of Sennheiser HD600 headphones and I can state that the sound quality of the Class AB headphone amp was more pleasant than that of the Class D main ampifier, which sounded a bit dry.
I have to state a peculiar point here. According to the specs, the USB input can accept DSD up to DSD128, but I could stream Quad DSD or DSD256 (11.2 MHz sampling rate) files to it. Perhaps, the specs given are conservative. As for PCM files, the maximum was 32/192 files as specified.
There is another peculiarity — I had difficulty removing the plastic plugs from the binding posts and in the end, I decided to loosen the screw and use the holes in the binding posts. I found out that they were too small for banana plugs and I had to use bare wire speaker wires in the form of the Mapleshade Double Helix cables.
Before I could stream music to the Cyrus ONE Cast, I had to download the Google Home app on my Android smartphone. According to the manual, apps compatible with Google Cast such as Spotify, Tidal, Qobuz and Deezer will be able to connect to the Cyrus ONE Cast.
So I downloaded Spotify, Tidal, Deezer and SoundCloud and after fiddling around with some commands, I managed to start streaming songs to the Cyrus ONE Cast.
I found out that Tidal offered the best sound quality and signed up for its 'Hi Fi' package to gain access to its Hi Fi (CD quality) and Master files (which are MQA encoded). But as I mentioned earlier, there was some boom and looseness to the bass which was not apparent when I used the laptop with USB cable.
Sometimes there were dropouts, but that depended on the quality of the internet connection and the wi-fi router transmission.
Overall, convenience is the overriding attraction. It is just so satisfying to plonk yourself on the sofa, take out your smartphone and touch the screen to start listening to music.
The Cyrus ONE Cast retails at RM7,199 and is available at CMY Audio & Visual.