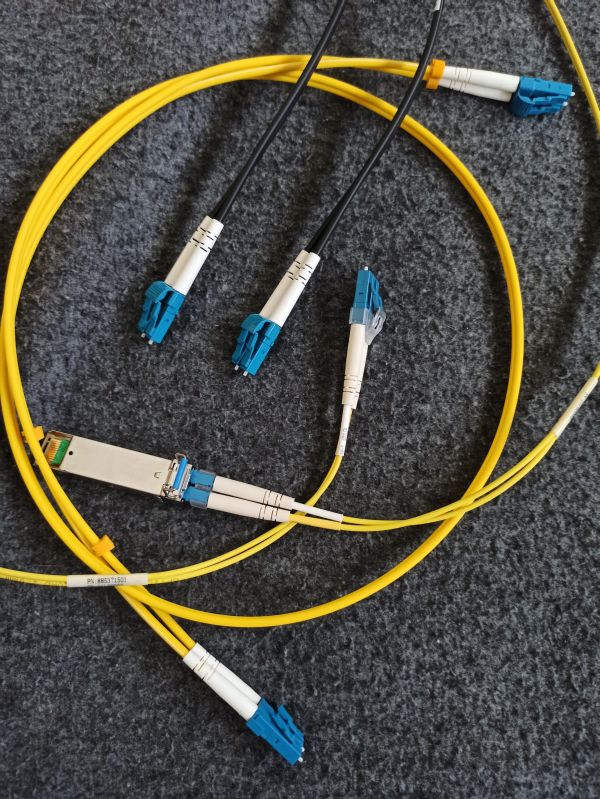 By Lam Seng Fatt
There I was listening to music on the Lumin P1 streamer/DAC/preamp via Fibre Network using a SUBTel optical fibre cable and noted that the vocals were smooth, but there was a lack of clarity and the soundstage was narrower compared with what I heard when I used an audiophile ethernet connection via a Silent Angel Bonn N8 network switch and Wireworld Starlight 8 RJ45 cable.
So I switched to the MSB fibre optic cable (which is supplied with MSB DACs) which Terry of Statement Systems loaned me and suddenly the soundstage opened up and and sound quality improved greatly with much clarity and transparency. The music became more impactful and dynamic.
For some time I thought I had lost my marbles and gone totally bonkers following an overdose of DACs and streamers and amplifiers, etc. I WhatsApped Terry and told him that it was probably unbelievable but his MSB fibre optic cable sounded better than the one I bought from Shopee.
And so I went googling searching for a fibre optic cable that sounds good. Lumin recommends Corning ClearCurve while an audiophile website recommends Commscope Teraspeed LC-LC Single Mode Optical Fiber Cable, but these are not available in Malaysia and the shipping from US is way too expensive.
After regaining my sanity, I recalled that some years ago, I actually did a shootout between a glass and a plastic Toslink cable and the glass cable sounded better (read https://www.av2day.com/2014/02/plastic-vs-glass-toslink/). I also recalled that some decades ago, Wadia used what it called an 'ST Link' cable that used AT&T glass fibre that many said sounded very good. If I am not wrong, other manufacturers like Playback Designs and EMM Labs also used AT&T glass fibre optics.
After much googling, I came across a fibre optical cable from an American company called Molex in the Element14 e-commerce platform. For those interested, click https://my.element14.com/molex/885371501/fibre-optic-cable-lc-lc-duplex/dp/3884587 The item is Molex 885371501 Fibre Optic Cable, Singlemode, 2 Fibres, LC Duplex to LC Duplex, 1 m.
So I googled some more and found out that in 2007 Molex acquired Polymicro Technologies, the world's leading supplier of capillary tubing and specialty optical fibers. And in 2011, NASA engaged Polymicro Technologies to provide specialized optical fibers for NASA's Curiosity rover which landed on and explored Mars. It dawned on me that if Molex's optical fibres are good enough for NASA, they have to be good enough for the Lumin P1. And so I bought one for RM49.15.
When the Molex fibre optic cable arrived, I quickly plugged it into the streaming network. Lo and behold, it turned out to be almost as good as the MSB fibre optic cable. It had an open, transparent and clear sound but the MSB cable sounded just a bit clearer, cleaner with a bit more dynamics and impact. The MSB fibre optic cable is specially made for MSB since the commercially available ones are colour-coded and singlemode cables are in yellow while the MSB cable is black. Since there is no way I can get hold of the MSB cable unless I buy an MSB DAC (which costs a small fortune) I have to settle for the Molex which is almost as good in sound quality.
So if you are about to jump into the rabbit hole of fibre networks, I would recommend buying (as listed in the previous post on Lumin P1 https://www.av2day.com/2023/01/lumin-p1-is-streaming-via-fibre-network-the-best-way/) one TP-Link MC220L Gigabit Ethernet Media Converter (RM215 each) and two SUBTel SFP-1G-LX 1.25G 10km SFP Transceiver modules Singlemode SMF Fiber (commercial grade, generic firmware, cost: RM61 each) available from Shopee. The Molex fibre optic cable at RM49.15 from Element14 will complete the system.
Since I have stuck out my neck to be chopped by the non-believers, I decided to find out why there could be differences in sound quality between fibre optic cables. After all, the signals are transmitted as light and are immune to RFI and EMI. The only answers I have managed to dig up are that the quality of the fibre optic cable affects the transparency which could explain why glass sounds better than plastic. The other possible reason is that the quality of the termination is also vital as it affects signal reflectance.
So on this controversial note, I wish all my audiophile friends Gong Xi Fa Cai and wish for more 'Ong' and 'Huat' so that they can upgrade more and more.